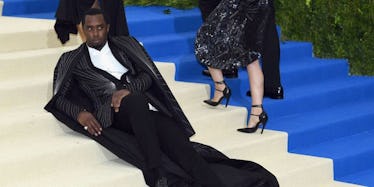 Diddy Cropped Kendall And Kylie Jenner Out Of A Pic Like A Total Savage
Dia Dipasupil/Getty Images For Entertainment Weekly
Earlier this month, New York City celebrated the Met Gala in honor of the Metropolitan Museum of Art's Costume Institute.
This event is arguably the biggest night for fashion out of the year and demands a star-studded red carpet with just about every celebrity you can think of wearing some pretty outrageous attire.
Of course, the Kardashian and Jenner family attended, and so did their bare butts.
Here is Kendall's...
...and here's Kylie's.
Also in attendance was P. Sean Combs the Diddy (That's what he is going by now, right?) looking like a vampire and mermaid all at the same time.
Hey, I'm not going to tell you what to do Diddy, but it does look like you might be a safety hazard in case of a fire.
Just because Kylie didn't call to tell me directly that her and Diddy are tight, I guess that technically doesn't mean it can't be true.
Exhibit A: Kylie recently posted this behind the scenes Met Gala pic, complete with sister Kendall, their middle fingers and Diddy.
Diddy, loving the photo so much, reposted it, with one, tiny altercation. The Jenner sisters were mysteriously and oh-so smoothly cropped out.
And lo -- the #Diddycrop was born.
Now you see them, now you don't.
I, wanting to believe the best in everyone, am going to assume Diddy just wanted a pic with the bros, and didn't intentionally leave the famous sisters out to throw shade. Plus, he captioned it "black excellence," which... well... the sister's aren't. 
They're Armenian excellence.
However, this isn't the first time Diddy disassociated himself with the Kardashians via a little cropping magic. He's been here before.
Hm, just Diddy and some of his best friends like Jay Z, Beyoncé and...
OH WAIT, THAT'S IT. THAT'S EVERYONE THAT WAS THERE LOLOLOL.
N0 Kim Kardashian or Anna Wintour for that matter.
Cold, Diddy. Cold.