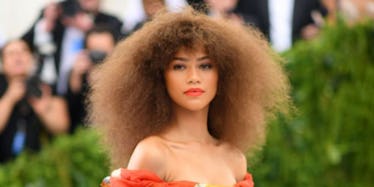 These Are The Best Celebrity Looks From The 2017 Met Gala
Getty Images
Every year, Anna Wintour forces Hollywood royalty onto the Met Gala's red carpet for what can only be described as an elite, themed frat party.
Similar to college parties, the themes range from borderline offensive (i.e. 2015's China: Through the Looking Glass theme) to "Hm, I'm genuinely unsure what to wear to this... screw it I'll just throw on this couch cushion" (i.e. Kim Kardashian's dress circa 2013).
This year's Met Gala took place on Monday night at the Metropolitan Museum of Art in New York City and, among many other esteemed guests, Katy Perry hosted the event.
The theme is Rei Kawakubo, the Japanese designer and creative director and founder of Comme des Garçons.
Rei Kawakubo is known for her notable and outlandish designs, so this year's fashion is guaranteed to turn some heads.
Year after year, the world dissects, worships and cringes at the good, the bad and the ugly fashion statements at the Met Gala, so we've narrowed down this year's top looks.
Check them out so you have something other than the weather to talk about at work!
Katy Perry is slaying in John Galliano.
Selena Gomez is a delicate, woodland fairy and her smile is made of sparkles and sunshine.
Rihanna won the carpet in her own Commes des Garçons number.
Lily Collins looks like Barbie during her angsty, rebellious, "MOM, I'm just TRYING cigarettes, I'm not an addict," teenage phase.
Zendaya absolutely killing it in Dolce & Gabbana.
Kylie Jenner's blonde bob paired with that dress is grossly fierce.
Zoe Kravitz giving us major Audrey Hepburn vibes.
Tons of celebrities walked the red carpet on Monday night, but these few really stand out -- and that's not easy to do on a night that's all about stars bringing their boldest looks.
Whoever wants to attend next year's Met Gala better start planning their looks now, because these gowns (and accessories, and hairstyles, and makeup) will be really hard to beat.