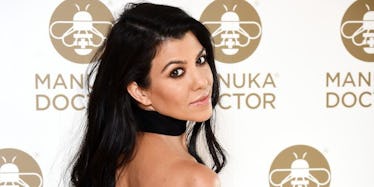 Kourtney Kardashian's Valentine's Day Gift Guide Includes A Creepy $150 Doll
REX/Shutterstock
Dear Kourtney Kardashian,I know you are going through a lot right now. I know Scott Disick is running around with models half his age in Miami.
I know he's an idiot and also the father of your children, and that really, really sucks.
But please, don't take out your feelings about all of that on the poor, innocent children.
More specifically, please don't encourage parents to drop $150 on the creepiest effing doll I've ever seen as a Valentine's Day gift for their daughters.
Can we all just look at this doll Kourtney Kardashian wants parents to buy?
Like, we can agree this is a creepy fucking doll, right? At its best, it looks like a Voodoo doll, but more realistically it looks like the doll demons possess in order to kill every last one of us.
Now look at the price tag.
So not only is it terrifying, it's also really fucking expensive. That's $150 you're paying to give your child the powers of Satan.
Yet for some unknown reason, this handmade Marie Pixie Doll from The Land of Nod is on Kourtney's Valentine's Day Gift Guide, as a suggestion for a gift to get a little girl.
Kourtney posted this list on her app in a post titled, "Cute Valentine's Day Gifts For Girls."
Here are the other things on Kourtney's list, all of which are perfectly normal, albeit outrageously overpriced gifts for a kid.
Maileg Mini Doll Bed, $45
A nice, normal doll bed that doesn't look like it hosts the spawn of Satan at all. Found here.
Williams-Sonoma Heart-Shape Cookie Cutter Set, $10
I'm not sure how much baking little girls do, so this seems more like a present for the parents. But at least then, the kids can enjoy the cookies. Found here.
Histoire D'Ours Pink Bunny, $39
Now we're talking! That bunny almost looks soft and cute enough for me to ignore the fact it's $40. Found here.
Classic Book Set, $105
Reading! Always a good pick, especially now that public education may be dead. Found here.
Vans Kids Metallic Slip-Ons, $40
Now these are some dope shoes. I never had shoes this dope as a child. Found here.
"Madeline" 24-Piece Tin Tea Set, $45
"Madeline" is a classic and these are perfect for a teddy bear tea party. Any child would be happy to receive this. Found here.
Ferm Living Polka Dot Tent, $148
Oh mannnn, this would have been my favorite gift as a kid by far. A bit pricey, but think of all the excellent hiding your kid could get done in this thing. Found here.
Minnetonka Sheepskin Slippers, $45
Fuzzy slippers! You just can't go wrong with fuzzy slippers, at any age, really. Found here.
SEE? These are all normal, expensive gifts!
Why'd you have to ruin it by throwing in that demon doll, Kourt?
Citations: Kourtney Kardashain Valentine's Day Gift Guide (Kourtney Kardashian)