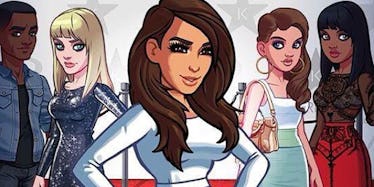 A Kardashian Cartoon May Be In The Works, But One Family Member Won't Be In It
Kim Kardashian Hollywood
No one asked for it, even a little bit, but Kris Jenner is trying to make it happen anyways: a Kardashian cartoon.
Sorry, I mean kartoon with a "K."
Yep, according to a report from TMZ, Kardashian matriarch Kris Jenner had a meeting with The Weinstein Company earlier this month to pitch an animated "Kardashian" series.
Apparently, the series Kris is envisioning would feature cartoon versions of herself, Kim, Kourtney, Khloé, Kylie and Kendall.
But, according to TMZ's report, there is one family member who will be deliberately left off the drawing board: Caitlyn Jenner.
Look, is anyone really surprised? If Kris Jenner is calling the shots, you know she's going to leave Caitlyn out of the spotlight as much as she possibly can.
It's not known at this point whether each animated Kardashian-Jenner would be voiced by their matching real-life Kardashian-Jenner.
It's also not known at this point what the damn point of this show would be. Would this be fictional? A kid's show? An even more terrible version of "Family Guy?" We just don't know the answers.
Personally, I think "Keeping Up with the Kardashians" is already giving me all the Kardashian family drama I require.
I mean, did y'all hear Kim Kardashian is trying to have another baby? That's nuts! She already has two of them!
Not to mention the fact that Kim and the rest of her family are still dealing with the aftermath of Kim's Paris robbery from October.
Kim doesn't even feel safe in her own home anymore, and even her own husband has triggered flashbacks to the traumatic event.
Do we really need to all of this trauma and drama in animated, cartoon form? That just seems weird.
Of course, there's no guarantee the show will actually happen. According to reports, "KUWTK" ratings have been down this season, so it's possible Harvey Weinstein won't even give Kris's pitch the time of day.
I guess we'll have to wait and see!