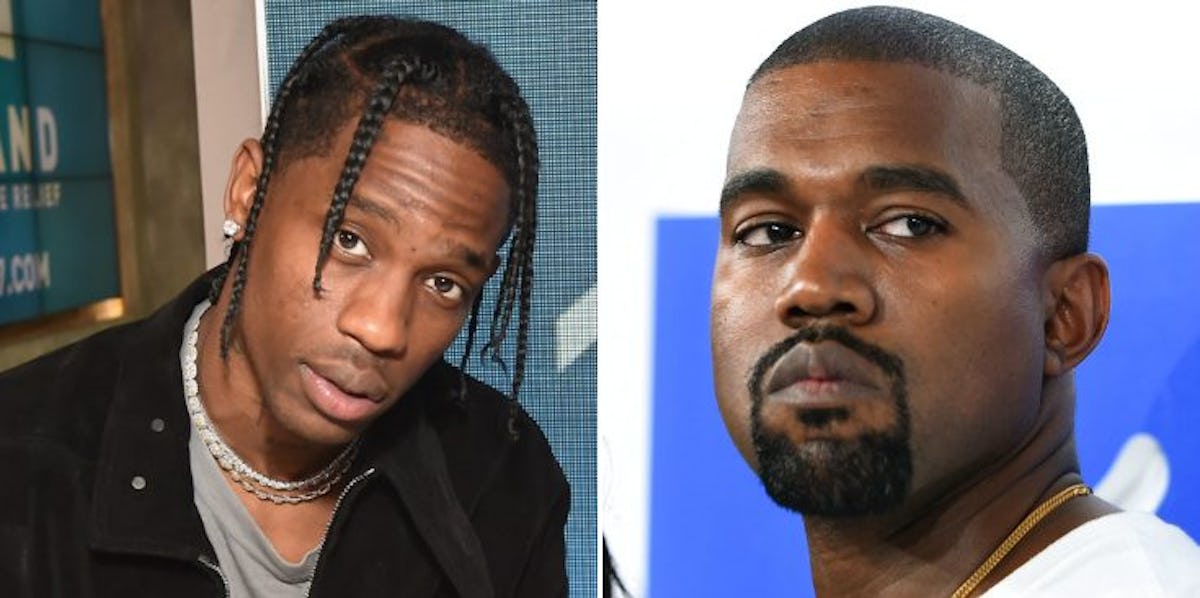 Here's How Kanye West Is Actually The Link Between Kylie Jenner And Travis Scott
Getty Images/ Theo Wargo/Hand in Hand/ Larry Busacca
When Kylie Jenner and Travis Scott first started dating back in April, it seemed relatively random and we were OK with it. As it turns out, they are actually connected by the one and only Kanye West. So, when did Kylie Jenner and Travis Scott start dating? The short answer is back in April, but the connection is way deeper.
Obviously, Scott and Jenner's relationship has been under close speculation since the news of Jenner's alleged pregnancy broke. On Friday, Sept. 22, TMZ spilled that the 20-year-old Keeping Up With The Kardashians star was reportedly pregnant with Travis Scott's baby. The article claims sources close to Scott confirmed to the outlet that Jenner is expecting. Elite Daily reached out to both Jenner and Scott's teams, but did not hear back by the time of publication.
According to TMZ, Jenner has reportedly been sharing the news during the past month with friends. Although they "cannot verify," TMZ says the couple is allegedly having a girl.
Although Jenner and the 25-year-old rapper have only been together for five months -- since April of 2017 — Scott is not new to the fam. Scott has actually been connected to the Kardashians much longer. The "Antidote" rapper is signed by G.O.O.D. Music — Kim Kardashian's husband's label (aka Kylie Jenner's brother-in-law). Scott and West have been working together since at least 2013.
During an interview with Complex in 2015, Scott admitted, "He [West] took me in super early in my career."
In another interview with Billboard around the same time, Scott said that he actually lived with West and Kardashian during the last week of production on the album, Rodeo.
I was staying at Kanye's crib and we just kept playing the album over and over and over. I really woke up and slept every day on this album, man.
In fact, the two are so close that Scott said West is like his "stepdad." He continued,
He's like my stepdad. We always had that relationship where we cook up ideas. We [talk] all the time about random sh*t — life and how we can do better as people and as rock stars. Our goal is to help people figure out who they want to be.
It sounds like Scott and West have a very tight bond. No reports have claimed that Kylie Jenner and Scott met each other through Kanye, but you never know.
Surprisingly, another family member has known Scott for at least a couple of years. Kendall Jenner attended Scott's album party at Up&Down, a NYC nightclub, in September 2015. A year later, in 2016, Kendall was seen leaving another restaurant in New York City with Scott.
He even attended Kendall's 21st birthday party in November 2016, where he reportedly performed. Although rumors circulated these two were an item, there's more proof pointing to them just being friends.
It's possible that Kylie and Travis could've met through Kanye or Kendall — keep it in the family, right? News about their relationship sparked in April during Coachella.
At the time, the two were just a fling. A source told E! News in April,
They were together a bunch at Coachella. It's a fling right now. It hasn't developed into anything yet, but they are feeling each other for sure.
Well, this "fling" has bloomed into a pretty cute romance. Scott and Jenner permanently solidified their love with matching butterfly tattoos in June.
Fans think the tats are related to Scott's song, "Butterfly Effect." Although the lyrics aren't really romantic, it's been reported that Scott calls Jenner his butterfly. WE GET IT, YOU'RE ADORABLE.
Neither Jenner nor Scott have confirmed pregnancy rumors, but we're all keeping a very sharp eye on their social media accounts. Whatever the future holds, I'm sure Kylie Jenner and Travis Scott will continue to be couple goals.
Check out the entire Gen Why series and other videos on Facebook and the Bustle app across Apple TV, Roku, and Amazon Fire TV.