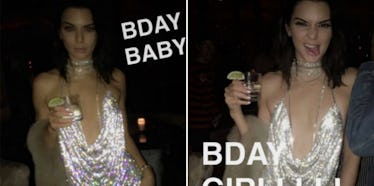 Kendall Jenner Celebrated Her Birthday In A Dress Worth More Than Your Rent
Instagram
Although a ton of her friends wished her a happy birthday earlier this week, Thursday, November 3 is Kendall Jenner's 21st birthday.
I have a calendar and a watch, so let me be one of the few people to wish KJ a happy birthday on her actual bday.
Now that we have that out of the way, we can talk about the epic party Kendall Jenner had to celebrate being able to legally buy alcohol.
According to People, the swanky soirée took place at Delilah in Los Angeles, and it looked lit AF! In addition to having a custom Snapchat filter, Kendall Jenner also had quite possibly the hottest outfit I've ever seen.
The sexy silver dress Jenner wore is reportedly worth a whopping $9,000, and let me tell you, baby girl looked like a million bucks in it.
DAMN!!! See? I told you Jenner was on fire.
The 21-year-old's dress was reportedly made by Lebanese designer Antoine Salameh and is coated in Swarovski crystals.
The $9,000 dress took about a week to design.
But Kendall Jenner's worth it.
I mean, you only turn 21 once, right? Why not do it in style?
For my 21st birthday, I Wore a $5 sombrero from Goodwill, but hey, whatever works.
It's OK, guys, Kendall Jenner is 21 now; she can drink from the bottle all she pleases.
Obviously, Jenner got a brand new whip for her 21st birthday.
Forreal, though, this party looked lit AF, and I have to have a talk with my girl about not getting an invite.
Speaking of Kendall's $9,000 custom dress, Salameh said,
We went off of Kendall's '20s reference and we wanted to give her a modern take on it; like Kendall, the dress is timeless and chic. She sent over reference images and I took it from there. It's young, sexy and fun.
Can't argue with that.
According to People, Kim Kardashian and Kanye West did make a quiet, brief appearance at Kendall's birthday party, which is a positive sign for Kim's road to recovery.
Happy birthday, Kendall.
Citations: Kendall Jenner Wore a Tiny, Sparkly $9,000 Dress for Her 21st Birthday (People)