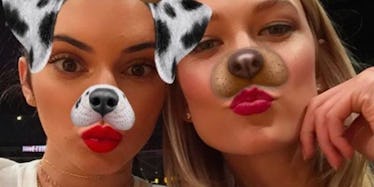 Gigi Hadid And Karlie Kloss Wish Kendall Jenner A Happy B-Day... A Day Early
Instagram/ Karlie Kloss
Kendall Jenner still has one more sleep until her 21st birthday, but everyone's already too ripped on congratulatory shots to realize what day it is… or isn't.
This morning, the reality-star-turned-it-model's bestie Gigi Hadid wished her a happy birthday on Instagram, despite Kenny's birthday being a day away.
Instagram | Gigi Hadid "Happiest Birthday my Ken " pic.twitter.com/bXFPG3al4t — Kendall & Kylie JPN (@KendallKylie_JP) November 2, 2016
Followers caught on and called Geeg out for her indiscretion.
Soon after criticism started pouring in, the model edited her caption to read, "Happiest Birthday weekend," even though it's Wednesday.
Gigi wasn't alone. Karlie Kloss, another of Kenny's supermodel pals who might not own a calendar, also posted an Instagram tribute in honor of the "Keeping Up with the Kardashians" regular.
Fans continued to remind Ken's friends, "It's not even her bday though."
Kendall's birthday is definitively November 3. The third day of the 11th month of the 2016th year since what many believe to be the birth of Jesus Christ.
In the future, Karlie and Gigi, remember to wish your best friend a happy birthday the same day as...
The 2014 official opening of One World Trade Center.
The 1979 Greensboro Massacre.
The 1982 Salang Tunnel fire in Afghanistan.
The 1954 premier of the first-ever "Godzilla" film.
Christopher Columbus' 1493 sighting of the island of Dominica from the Caribbean Sea.
The 1817 opening of Canada's oldest chartered bank, the Bank of Montreal.
Poland's 1918 declaration of independence from Russia.
The 1926 death of Annie Oakley.
The Soviet Union's 1957 launch of Sputnik 2, along with passenger Laika the dog, aka the first animal to enter orbit (big day).
Let's save the celebration for November 3 and discard November 2 for what it truly is: the day Taylor Ortega ate 40 fun-sized Butterfingers left over from Halloween and wrote this post, largely (read: entirely) sourced from Wikipedia.
Happy almost birthday, Kendall.