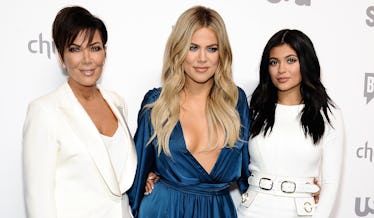 Kris Jenner Dropped Major Hints That Khloé & Kylie Are Actually Pregnant On 'KUWTK'
The Keeping Up With The Kardashians holiday special aired on Sunday, Nov. 26 on E!, and it was packed with what could be some major hints that Kylie Jenner and Khloé Kardashian are actually pregnant (she says for the umpteenth week in a row...). The clues from KUWTK that Kylie Jenner and Khloé Kardashian are pregnant are scattered throughout the episode, but are mainly found in the things Kris Jenner says to her daughters. Well, that, and the fact that Kylie isn't filmed in any full-body shots for the entire episode. We see what you did there, Kardashians.
UPDATE 2: On Sunday, Feb. 4, Kylie Jenner confirmed her pregnancy in an Instagram post. She welcomed a daughter on Thursday, Feb. 1.
UPDATE 1: On Dec. 20, Khloe Kardashian confirmed that she is expecting a baby with Tristan Thompson in an Instagram post.
EARLIER: The episode was filmed earlier this fall, which confused a bunch of people but makes total sense when you consider the fact that they had to film it ahead of time in order for it to be aired during the holiday season. Notably, when the family posted a photo of the whole Kardashian/Jenner clan posing after filming the episode, Kylie Jenner was nowhere to be seen in the picture. And if Khloé Kardashian does have a baby bump to hide, it wasn't showing at all in the black dress she wore in the photo. It was all very sus. And now, we have the corresponding episode to go with it, and no matter how many times you watch it, you'll walk away confused.
In the video recapping the episode (titled "A Very Kardashian Holiday"), Kim Kardashian starts up the baby talk by saying she's thankful for having such a supportive family to help her through all of her own upcoming baby craziness (she and Kanye West are expecting their third child, a daughter, via surrogate reportedly "before Christmas"). She said, "I don't know if I'm thankful for the calm before the storm next year before the new baby, and I'm thankful that we have family."
These were the faces Khloé Kardashian and Kylie Jenner made when Kim K talked about the "calm before the storm" before the new baby. Is it because they're in their own calm before the baby storms?! Something is up!!
In the next clip, Mama Kris says through tears, "I used to pray that one of you guys would have a baby, and now it's like a faucet that we turned on that won't turn off."
This was Kylie Jenner's face when Kris Jenner was talking about that "faucet."
Kylieeeeeee, you got some 'splaining to do! Kris Jenner continued, "The fact that I have all these grandchildren. It's been the most amazing journey to watch your kids — because it's truly the meaning of just life." Khloé adds in the most Khloé way possible, "And a little bit of alcohol."
As of right now, the only confirmed Kardashian baby on the way is Kim and Kanye's, which Kim recently let slip is a baby girl. The last Kardashian baby to arrive was Dream Kardashian on Nov. 10, 2016 and baby Saint West before that on Dec. 5, 2015. If she's just talking about the fact that she has six grandchildren all under the age of 10 (Mason, Penelope, Reign, North, Saint, and Dream), then yeah, we could totally consider that to be a "faucet." But it really doesn't come off that way in the clip. It seems to me (and I could be wrong... but come on, am I?) that Jenner is referring to the fact that three of her daughters are reportedly expecting babies at the same time. It just seems more likely that she's referring to having three grandchildren on the way from three different daughters as a "faucet that won't turn off" than the fact that the family has welcomed six grandchildren over the last 10 years. But that's just me!!
In a post from Nov. 15, Jenner posted a picture of nine pairs of holiday-themed PJs sent to her from Burt's Bees. Her caption says there's a pair for "every one of" her grandchildren, which is sus because she currently only has six and only has one confirmed grandchild on the way. Her caption read,
Thank you so much #burtsbeesbaby@burtsbeesbaby#bbbfamjams for the most amazing collection of family jammies ever and i am obsessed with the plaid !!!!! Can't wait to cuddle up with the kids #holidayseasonthank you for a collection for every one of my grandchildren
This led fans to believe that the two extra pairs of PJs are intended for Kylie Jenner and Khloé Kardashian's reported babies, but only time will tell if they're actually pregnant.
Check out the entire Gen Why series and other videos on Facebook and the Bustle app across Apple TV, Roku, and Amazon Fire TV.