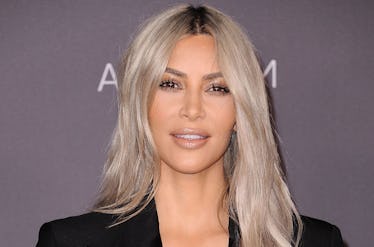 Kim Kardashian Accidentally Revealed The Sex Of Her Baby & The Video Is Adorable
Kim Kardashian is the only member of the Kardashian/Jenner family who has confirmed her baby rumors, making her my official favorite Kardashian because the rest clearly don't care about my stress levels! Back in September, the reality star confirmed rumors she and Kanye West were expecting a baby via surrogate, but now, Kim Kardashian accidentally revealed the sex of her baby in an interview with Ellen Degeneres, and it's a girl!
Kardashian appeared on Ellen, and as always when a Kardashian/Jenner family member is on Ellen, things get entertaining AF. DeGeneres and Kardashian were chatting about North and Saint when Kardashian accidentally started referring to the baby as "baby sister," which can obviously only mean one thing. She also dished about her cherry blossom baby shower she had this past weekend, proving the pink cherry blossoms were chosen for a specific reason. She said to DeGeneres,
My daughter, she's really tricky. We had a baby shower over the weekend, and I thought: 'I really do want a baby shower because I want her to feel that something's coming, and I really want her to understand.' People brought toys and gifts [to the shower], and we were opening them all up the next day and North said, 'Mom, since baby sister's not here, I think I need all of her toys in my room and I'll play with them and just make sure they're OK for baby sister.'
DeGeneres said with a look of victory on her face, "She's a toy tester, and you just told us it's a girl!" Kardashian laughed in an "oh sh*t" kind of way, then responds, "Oh, yes. It is. It is a girl."
So, it's official! North and Saint West are about to become big sister and brother to a baby sister. Unfortunately, Kardashian didn't reveal anything about name ideas because she and West apparently have none, but she did play along when DeGeneres joked they would be naming her Elle West, after DeGeneres.
Kardashian said having a baby on the way but not being pregnant herself has been a little confusing for her kiddos. She told DeGeneres that she jokingly asked her sisters if it would be weird to celebrate the arrival of the baby by having someone dress as a giant stork and deliver the baby to the house, but DeGeneres was like, "Dude, no," saying, "Yes, you're going to mess [Saint] up real bad. No, don't do that." Kardashian explained that North is super excited to be welcoming a baby sister, as having a brother has been "trickier" for her. She said,
North is really excited about [having a sister]. [Having] a brother was a little trickier. Now, she's so excited. Let's see if it lasts. I've had to explain to her: 'OK, 4 in the morning when you come into my room, I have to be with baby sister. I have to feed her.'
She also revealed that she and Kanye are pretty much freaking out over the fact that they baby is coming so soon (reportedly before Christmas) and they still have no idea what to name her. So at her baby shower this past Saturday, Nov. 11, Kardashian had her guests write down potential baby names on little tiles just to see if any of them sparked something for her and Kanye. Apparently, nothing stuck. To help out, DeGeneres pulled out her celebrity name generator and came up with some names that definitely will not stick, but it was fun anyways. Some of the results were Lip-Kit West, West West, and Star West. Apparently, North loves the name Star and names her toys Star West, but Kardashian "isn't vibing on it." So, I guess they still have some work to do.
Now, I'm just going to throw this out there, but the name Kelli (in my opinion) is one of the greatest names of all time, and it also starts with a K. So, like, Kim, honey, Kelli West works. You're welcome.