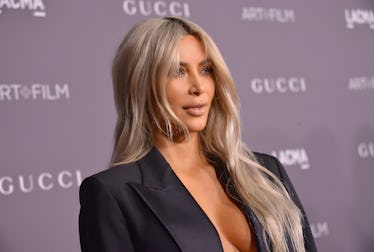 Kim Kardashian Opens Up About Having A Baby Via Surrogate: "It's Hard For Me"
Charley Gallay/Getty Images Entertainment/Getty Images
Happy baby number three, world! Kim Kardashian confirmed she's having a third child with Kanye West via surrogacy and threw an epic baby shower this past weekend with her friends and family to celebrate. Kim notably had two difficult pregnancies with her first two children, Saint and North West, tipping the public and media off that a surrogate might be an option for her moving forward. More than anything, we're just so happy to hear their family is growing!
During press for her new fragrance KKW Crystal Gardenia, Kim had the opportunity to speak with Entertainment Tonight and get really real about the surrogacy process. She revealed it's been a more difficult journey than expected, mostly because she feels she has less control over the actual pregnancy.
She said,
You know, it is really different. Anyone that says or thinks it is just the easy way out is just completely wrong. I think it is so much harder to go through it this way, because you are not really in control. And, you know, obviously you pick someone that you completely trust and that you have a good bond and relationship with, but it is still ... knowing that I was able to carry my first two babies and not, you know, my baby now, it's hard for me. So, it's definitely a harder experience than I anticipated just in the control area.
Fans might find this statement surprising as Kim was SO vocal about how she hated being pregnant the first two times.
She explained,
I hated being pregnant and I never thought I'd ever ... I thought this was going to be so easy, but you know, even in how much I hated it, if I could do it myself I would have preferred that. So, that inner struggle is kind of hard, but I am just rolling with it and it is what it is.
She added that surrogacy is "a different experience," but she's ultimately grateful to know she can expand her family with Kanye West:
I think it is definitely a different experience and I am blessed that I am able to do this, and technology is the way that it is that we can do this. But it is still a process that you need to digest. Even the fact that it is happening -- and you do forget sometimes -- because I think when you are pregnant, by the time you have the baby, you are so prepared and so ready, and now I am just like, 'Oh my God I am going to freak out because I'm not ready and I'm not prepared,' but it'll just all come into place.
As for her kids, Kim says they're pumped. She said,
They are excited. I mean, I don't know if they don't feel it as much because they don't see my big belly and probably hear me complaining every two seconds. But, we do talk about it a lot, so I think they are really excited. I think my son, I don't know how he is going to react because he doesn't get it yet, but my daughter is really excited.
So, will she take time off? Like, maybe. Between all of her independent businesses like KKW Cosmetics, the Crystal fragrance line, Kimoji app, and her new app ScreenShop, Kim prefers to stay busy:
My team's kind of like, you know, I think you should just take some time off and just focus on beauty, and I had this app that I've been working on, a fashion work for over a year. And I just know when I see something and when I like it, and when I want to be involved and help reinvent it and figure it out. So, I think I put pressure on myself ... I love that energy in my life. I like always being busy. When I'm not busy, that's when I start to get uncomfortable.
Something tells me she will be plenty busy with three children and an empire to run.
Maybe one day in a not too distant future all of the Kardashian babies like Mason, Penelope, Reign, North, Saint, Dream, Kylie and Khloé's rumored future babies, and Kimye's third bundle of joy will all have their own spinoff series. Just spitballing here, but Kardashian Kids has a nice ring to it, don't you think?
Check out the entire Gen Why series and other videos on Facebook and the Bustle app across Apple TV, Roku, and Amazon Fire TV.