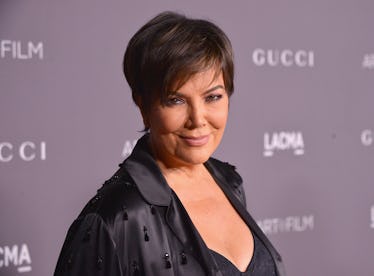 This Tiny Clue On Kris Jenner's Instagram Could Prove Kylie & Khloé Are Really Pregnant
Charley Gallay/Getty Images Entertainment/Getty Images
I know what you're thinking: Are we really doing this are they/aren't they pregnant thing again? YES. Yes, we are. And you're going to thank me when you're done reading it, because this is the MOTHER of all clues brought to you by the mother of all Kardashian/Jenners. That's right, folks. Our fearless wolf pack leader just gave us some major hinting at what's to come for the perfectly-sculpted family, and it is BIG. A clue on Kris Jenner's Instagram is making it seem that the superstar mom is subtly confirming the pregnancies of Kylie Jenner and Khloé Kardashian.
UPDATE 2: On Sunday, Feb. 4, Kylie Jenner confirmed her pregnancy in an Instagram post. She welcomed a daughter on Thursday, Feb. 1.
UPDATE 1: On Dec. 20, Khloe Kardashian confirmed that she is expecting a baby with Tristan Thompson in an Instagram post.
EARLIER: We all know that, at this point, both sisters are essentially teasing the entire world when it comes to whether or not they are actually pregnant. Remember that one time when Khloé debuted what many thought was a baby bump on Halloween? And what about that time that she was spotted wearing loose black clothing (and we know that is definitely NOT her style M.O.)? And how could we forget when Kylie's Snapchat stories basically vomited pink, leading nearly everyone to suspect that she was hinting about being pregnant with a baby girl? Oh, what fond memories.
These two are giving us the run-around, and we're all teetering on the edge of completely losing it.
CAN YOU PLEASE JUST BE STRAIGHT WITH US? Just this once?
Well it looks like we have an answer to that question, and that answer is, LOL, nope, because Kris Jenner's recent Instagram post has just made things a whole lot more insane.
In her post, she thanks Burt's Bees Baby for the arrival of adorable holiday-inspired pajamas she purchased for her grandchildren (and, hi, I actually really want those jammies, they look comfty AF). But, um, for those who are not mathematically-inclined, something about the post seems off:
Hm. Well now. I see pajamas for Mason. And Penelope. And Reign. And North. And Saint. And Dream. That's sweet. All six grandchildren will have cozy Christmas jammies.
BUT WHY ARE THERE THREE EXTRA PAIRS OF PAJAMAS?!
Look closely, people. There are 9 freaking sets of pajamas in that photo. And Kris Jenner makes it awfully clear that these are solely for her grandchildren:
Thank you so much #burtsbeesbaby@burtsbeesbaby#bbbfamjams for the most amazing collection of family jammies ever and i am obsessed with the plaid !!!!! Can't wait to cuddle up with the kids #holidayseason thank you for a collection for every one of my grandchildren
Every. One. Of. Her. Grandchildren.
With three sets of pajamas that are basically up for grabs, that can only mean one thing: one set is for Kim Kardashian's baby via surrogate, one for Khloé's ultra-secret surprise baby, and one for Kylie's ultra-ultra-secret surprise baby!
Right? RIGHT?!
Many people are saying that perhaps it's not true, because each set of pajamas has name tags, with names clearly written on each. But hey, guess what? It's pretty suspicious that all of the names that we DO know of are conveniently in the front few rows, and yet, the pajamas wayyyy in the back are illegible. Unless you are a human with bionic eyes - and if you are, please, come forward and help us out with this, it's very important - there's no way to read what's on those tags!
This family is so strategic with everything, that this is undoubtedly another calculated move by Jenner herself, because some people just want to watch the world burn.
So, while this isn't exactly confirmation that there will be three new additions to the Kardashian/Jenner household, this was definitely one of the less subtle clues that there may be more babies on the way.
If we get any more hints from ANY of the Kardashians or Jenners, it looks like we might have to take extra measures. You know, get some professionals involved.
You heard it here first, folks.