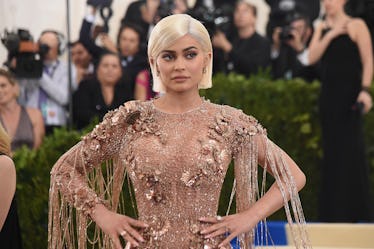 Kylie Jenner's New Snapchats Are Filled With Pink & Fans Think She's Pregnant With A Girl
Nicholas Hunt/Getty Images Entertainment/Getty Images
We still don't know if Kylie Jenner is pregnant — but that doesn't mean the reality star can't tease us mercilessly with clues. The youngest of the Kardashian/Jenner clan has been dropping easter egg after easter egg, and the latest one is a potential doozy. Kylie Jenner's pink-themed snapchats are making fans think she's pregnant with a girl and, honestly, the evidence is kind of damning.
Jenner posted a series of snapchats on Nov. 10 that were literally overflowing with pink. There was a picture of her freshly-did pink nails surrounded by pink emojis, a picture of a pink Christmas tree... next to to pink chair, and a picture of herself with pink hair. Oh yeah, there was also a snap of Dream's birthday cakes, both of which were... you guessed it... pink. I'm no Nancy Drew (I wish), but it seems like Jenner is trying to tell us all something.
And yes, it should be acknowledged that it's very possible the reality star is messing with us all. The whole thing could literally be one massive marketing tool, in which case Taylor Swift's brilliantly cryptic, promotional tactics may have finally met their match.
But first, let's take a look at all of the evidence.
OK, I told you it was an overload of pink. Fans on Twitter quickly jumped to some very natural conclusions.
Meanwhile, Jenner is continuing to stay mum on the topic. She did however spar briefly with the Daily Mail after the news outlet posted pictures of the reality star on Nov. 5, showing what looked like a definite baby bump.
"First of all if you're going to photoshop my photos blogs/paps!! Check for the crooked lines in the background," she wrote on Twitter. "2nd photo is clearly altered."
Hmmm... so that's still not exactly a denial, right?
Meanwhile, there have been a ton of sources who have been more than happy to spill on Jenner's alleged pregnancy. One insider confirmed to PEOPLE that the reality star is indeed having a daughter, adding,
Kylie prefers to stay home. She feels good, but her body is changing. She doesn't want to be photographed At the moment, she wants more privacy. She has family and friends come to her house instead so she has company
She is very excited about the baby though. She talks about the baby nonstop. She is already shopping like crazy.
The source said that the whole fam is on board with the pregnancy, explaining,
No one was thrilled about Kylie because she's so young and naïve, but everyone has come around and they are focusing on the baby. They truly believe that Kylie will rise to the occasion and be a good mom. And they'll be there to help!
Plus, another insider told US Weekly that Jenner and her boyfriend Travis Scott are already starting to play house.
"They are spending a lot of time together," the source dished. "They're serious! She's really into him and has known him for a long time," the source said. "Her family really likes him. Kendall has also been friends with him for years."
OK, I'm just going to play devil's advocate for a moment. It seems like we shouldn't neglect to point out some recent easter eggs that show that Jenner might actually not be expecting a baby at all. Namely, the fact that in one of her recent Snapchat stories a box of tampons can be seen featured among a collection of grocery items.
I mean, it's totally plausible that those tampons were for someone else, but we have to examine all evidence when it comes to this.
Keep sending out those easter eggs, though. At the very least, it's fun to play Nancy Drew for a bit.