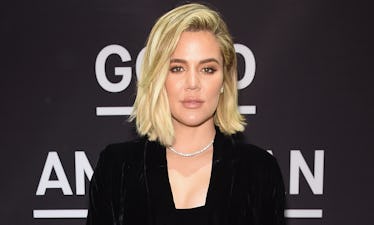 People Think Khloé Kardashian Showed Off Her Baby Bump In These Halloween Snapchats
Happy Halloween, everyone!! Today, the greatest day of the year, we celebrate some real spooky sh*t. And we're also going to celebrate all of the celebrity Halloween costumes because they were truly amazing this year. And you know who slayed this year while also possibly revealing some big news? Khloé Kardashian and Tristan Thompson. The couple dressed as none other than Khaleesi and Khal Drogo from Game Of Thrones for a Halloween party on Monday, Oct. 30 and they absolutely slayed their costume. But fans think they might have found more clues Khloé Kardashian is pregnant in the Snapchats she posted for Halloween. In a couple of Snapchats, Kardashian and Thompson can be seen posing all cute in their Game of Thrones couples costume. At one part in one of the snaps, you can kind of catch a glimpse of Kardashian's stomach, and people are convinced they can see a baby bump.
UPDATE: On Dec. 20, Khloé Kardashian confirmed that she is expecting a baby with Tristan Thompson in an Instagram post.
EARLIER: Kardashian has yet to confirm her reported pregnancy (and the corresponding rumors that she and Thompson are expecting a baby boy), so I doubt this is how she would reveal it to us. But it is pretty sus that in a second Snapchat, she posted a video of Thompson dressed as Khal Drogo and captioned it, "That's daddy."
That's DADDY, huh??? What could you possibly mean by that, Khloé? I'm all ears! Side note: Whose Halloween party are they attending?! It looks lit AF. Khloé posted a sh*t ton of Snapchats from whatever party this was, and they looked like they were having a grand old time, but I'm not entirely sure that I can see any kind of baby bump in those Snaps. Maybe that's just me. Fans seem to think they saw a bump.
Here's Thompson dancing in the snaps.
Here he is dancing again.
One more time for the khals in the back!
Honestly, Khloé, I love this man too. He just seems like so much fun. Good for you, girl. Kardashian has actually said in the past that her relationship with Thompson is the best she's ever had. And she already thinks he's a great dad (he has an 8-month-old child with a woman from a previous relationship), so it seems like if she and Thompson are expecting a child together, they're pretty freaking excited about it. Kardashian said in an interview with You Magazine that she would definitely consider having kids with Thompson if "the time is right." She said,
I definitely want a family, but I don't feel any pressure. Tristan is a great dad [he has an 8-month-old son with his previous partner] and he definitely wants more children, but we both feel that it will happen when the time is right.
At the time, she said their relationship was still relatively new and that they were just enjoying spending as much time together as possible. She said,
We're still in a new relationship and I love us having time together. Once you have kids you can't get back your non-kid years. My sisters and I bother my mum [sic] all the time, so I know it's not, like, 'When they're 18, you don't worry about them again.' You worry about your children for the rest of your life. The concern I have is raising little human beings in a world that's filled with such hate and terror. That seems very scary.
Before she started dating Thompson, Kardashian said in a 2015 interview with Refinery29 that she hopes her experience as an auntie will be of help when she starts a family of her own. She said,
Everyone says that when you have kids, you become crazy [laughs], so I don't know what I'm going to be. But, I'm a really fun aunt, so I hope I'm going to be a fun mom! I like to have fun and be silly and not take myself too seriously with the kids, so I hope that will translate when I actually have my own.
What do you think, guys? Can you see a baby bump in those snaps?