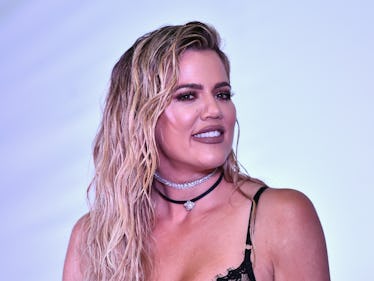 7 Clues Khloé K Is Actually Pregnant, In Case You Still Don't Believe The Rumors
Alberto E. Rodriguez/Getty Images Entertainment/Getty Images
Remember when it was announced that three out of the five Kardashian sisters were expecting babies and then... nothing? Kim confirmed her baby news through a Keeping Up With The Kardashians promo, but Kylie and Khloé have given us nothing to work with. Oh yeah, I forgot people thought Kourtney was allegedly preggers, too — that's four sisters. Kendall, honey, what is you doing? While the rumors can't possibly all be true (can they?!), Khloé's alleged pregnancy seems like the most credible. There are so many clues about Khloé Kardashian's pregnancy that makes it a lot more believable.
UPDATE: On Dec. 20, Khloé Kardashian confirmed that she is expecting a baby with Tristan Thompson in an Instagram post.
EARLIER: Below are seven hints that may give some legs to those KoKo pregnancy reports.
1. No one has denied it.
This may be the most important point. I mean, how hard is it to say, "LAWLZ, guys, not pregnant. TTYL." That's what someone in 2006 would say, I'm pretty sure. No one has denied that Kardashian is pregnant — not Tristan Thompson (the baby's reported father), Kris Jenner, Kim K, Kylie Jenner, or Kardashian herself. No one has confirmed the reports either, but it's a two way street.
2. Kardashian responded to baby bump comments on Instagram.
This is a real head scratcher. Kardashian has been promoting the new season of her Good American clothing line on social media. The collection is size inclusive and super cute, but, of course, the pregnancy reports started to overshadow it.
Kardashian posted a black-and-white photo of herself in an all-black, faux-leather ensemble. Comments on Instagram came pouring in about Kardashian's body (not OK either way) like, "BUMP," "Am I seeing a bump???," "She's pregnant I can tell from the shape of her stomach," and "Can see your little bump. Love the outfit."
Kardashian herself waded into the comments and epically shot down all the bump discussion by pointing out the shape of the top, writing: "This is a peplum shirt. It flairs out at the bottom. It's just the way the shirt is designed. In some of the next pictures coming up from the SAME shoot, I'm in a crop top. Showing a lot of skin... "
BOOM. However, she still didn't confirm or deny the rumors — she just shut down the conversation about her body. Hmmm....
3. Tristan Thompson's cryptic tweet.
Tristan Thompson is Kardashian's boyfriend of over a year and the alleged father of the baby. He is hardly active on Twitter, but tweeted on Sept. 26 after the reported pregnancy news was out. What did he choose to tweet? TWO PAIRS OF EYEBALL EMOJIS. What the hell are we supposed to do with that? Needless to say, fans lost their sh*t over it.
He certainly isn't denying pregnancy reports. However, some people thought he was just "watching" a fake news story unfold before his eyes. The reports haven't been denied, so technically, it hasn't been confirmed as fake news.
4. Kardashian and Thompson have a very strong relationship.
Kardashian and Thompson are obviously one of the best celebrity couples of the moment. They seem like they have nothing but respect for each other, and are head-over-heels in love. This just fuels pregnancy rumors even more.
In a recent interview with You Magazine, Kardashian said in response to marriage,
I'm in the best relationship I've ever been in and it doesn't take a ring for me to feel that way.
OK, I feel you. Kardashian and Thompson seem so happy together and a baby would be a logical next step.
5. Scott Disick may have spilled the beans.
I swear, we can't take Scott Disick anywhere. When speaking with E! News, Disick totally answered a question about the baby advice he'd give to KoKo... and he didn't acknowledge whether or not these pregnancy speculations were true or false. Here's what he said:
If she ever asks, I'm sure I would try. But I feel like all of us are so close that all of our children are kind of brought up in the same vicinity, or one block over, that everybody's kind of there for each other. I don't really need to give advice per se because we are right there. It's not like long-distance, 'Hey, maybe you should try this?' Everybody's so hands-on that I feel like it will happen within time, so no real advice in that sense.
It certainly sounds like Disick is saying that he and the rest of the Kardashian clan plan to raise their children within close vicinity to one another (no surprise there), but it's rather interesting that he didn't take the interview opportunity to confirm or deny KoKo's pregnancy rumors.
6. Kardashian and Thompson have talked about having kids.
The idea of kids has definitely been put on the table at some point during Kardashian and Thompson's relationship. When the subject of kids was brought up during an interview with You Magazine, Kardashian said,
I definitely want a family, but I don't feel any pressure. Tristan is a great dad [he has an eight-month-old son with his previous partner] and he definitely wants more children, but we both feel that it will happen when the time is right.
Could the right time be now?
7. Kardashian has talked about becoming a mom for years.
Literally, years. Kardashian has been very open about wanting kids of her own someday. During an episode of Keeping Up With The Kardashians she said,
I'm a really fun aunt, so I hope I'm going to be a fun mom! I like to have fun and be silly and not take myself too seriously with the kids, so I hope that will translate when I actually have my own.
Personally, I think Kardashian would be the best mom ever.
Although Kardashian's alleged pregnancy has not been confirmed, these seven clues definitely give a little more background to the rumors. Either way, I'm wishing the best for Kardashian and Thompson and whatever the future holds.
Check out the entire Gen Why series and other videos on Facebook and the Bustle app across Apple TV, Roku, and Amazon Fire TV.