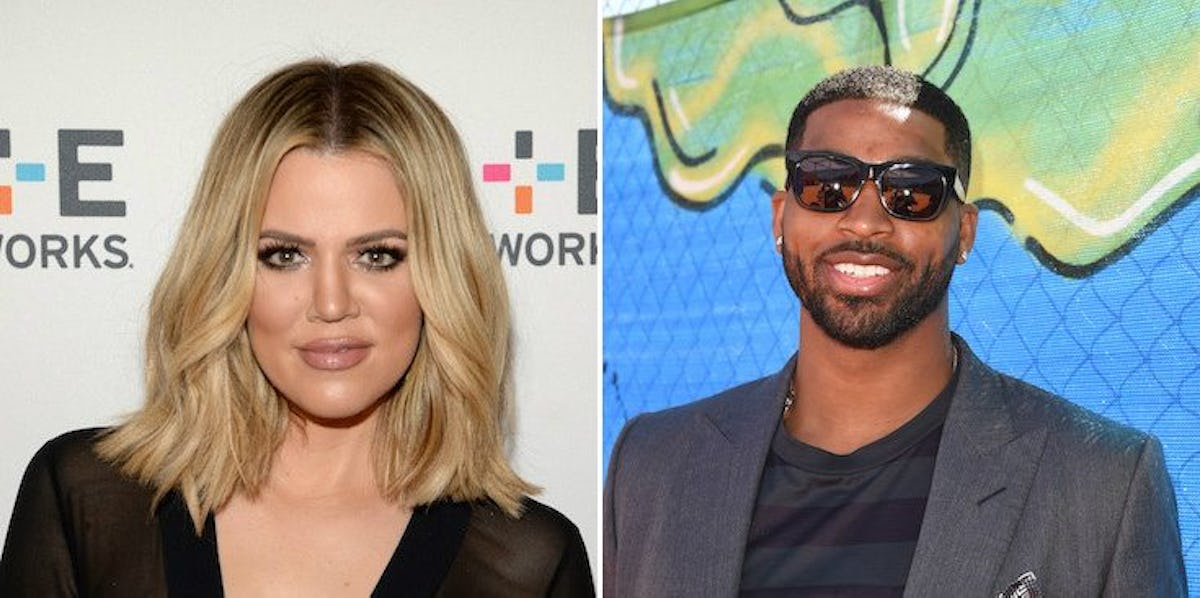 Tristan Thompson Talking About Khloe Kardashian Will Make Your Heart Melt
Chris Weeks/Getty Images for A+E Networks / Kevin Winter/Getty Images
There's nothing to give you the swoony sighs like hearing people talk about how much they love someone else. Whether you're in a relationship (and can commiserate) or not, there's something so awesome about listening to two people and being able to tell that they're each other's world. And celeb couple Khloé Kardashian and Tristan Thompson are that in a nutshell, if you ask me. Tristan Thompson's quotes about Khloé Kardashian are pretty much the sweetest thing ever, and vice versa. Honestly, I can't get enough of them.
UPDATE: On Dec. 20, Khloé Kardashian confirmed that she is expecting a baby with Tristan Thompson in an Instagram post.
Earlier: There's always half of a couple that's more expressive than the other, and in this case, it looks like our girl Khloé is it. She has no qualms at all about publicly gushing about how happy she is with her NBA star honey, and it's honestly precious. In a recent interview with You Magazine, she said,
I'm in the best relationship I've ever been in and it doesn't take a ring for me to feel that way.
I feel it. Love doesn't need a ring to be real. And Tristan obviously feels the same way. Though he's not quite as effusive on social media as his girlfriend, it's not about quantity, it's about quality. His messages about Khloé may be slightly less frequent, but hoo boy do they make up for it in what they say.
Like, check out this Instagram post from Khloé's birthday back in June:
As if the adorable photo booth pictures aren't enough, he went ahead and posted a message that would make anyone melt. He wrote,
Happy bday my love, this picture right here sums up how wild, crazy and how much we love each other. Let's continue to build more memories and cherish them with each other. God bless you, I love you
.... I mean, swoon.
And then there's this one from Christmas 2016, where the two posed together (in, uh, kind of extravagant fur coats), and he referred to the pair as "me and mines." He wrote,
Merry Christmas & Happy Holidays from me and mines, to you and yours.
OK, so to be fully honest my feminist heart has a little bit of a twitch at the whole "mine" thing, but nevertheless, it's really cute. I mean, it seems pretty clearly in the context of "my loved ones," so again, swoon.
The couple has been together for about a year, after getting together on a blind date back in September 2016. A mutual friend, Brandon Jennings, put together a "group dinner," a meal that turned out to be a setup to get the two to meet. While I'm astonished that a blind date worked out, well, ever, I'm pretty sure that if anyone could beat the odds, it's these two.
How in love the pair clearly is only helps along those baby rumors that broke on Tuesday.
On the evening of Sept. 26, Us Weekly reported that Khloé was pregnant, and the couple was expecting their first child together. If true, it will be the first baby for Khloé, who has been an auntie six of her siblings' children so far, and the second child for Tristan, who has a 9-month old son with his ex, model Jordan Craig. Elite Daily reached out to Kardashian's teams for comment, but did not hear back at time of publication.
The baby rumors came at an extra crazy time — not one, but two of Khloé's siblings are also rumored to have a bun in the oven. Big sister Kim K is rumored to be expecting her third child with hubby Kanye West via a surrogate, per reports. And Khloé's youngest half-sister, Kylie Jenner, is also rumored to be expecting a baby with boyfriend Travis Scott. Better yet, both Kim and Kylie's babies are reported to be girls, so the possibility of a set of new Kardashian/Jenner/West girls ready to shake up social media is very real. IT COULD HAPPEN, GUYS.
In the meantime? It looks like two's still company. Keep being cute, you crazy kids.
Check out the entire Gen Why series and other videos on Facebook and the Bustle app across Apple TV, Roku, and Amazon Fire TV.