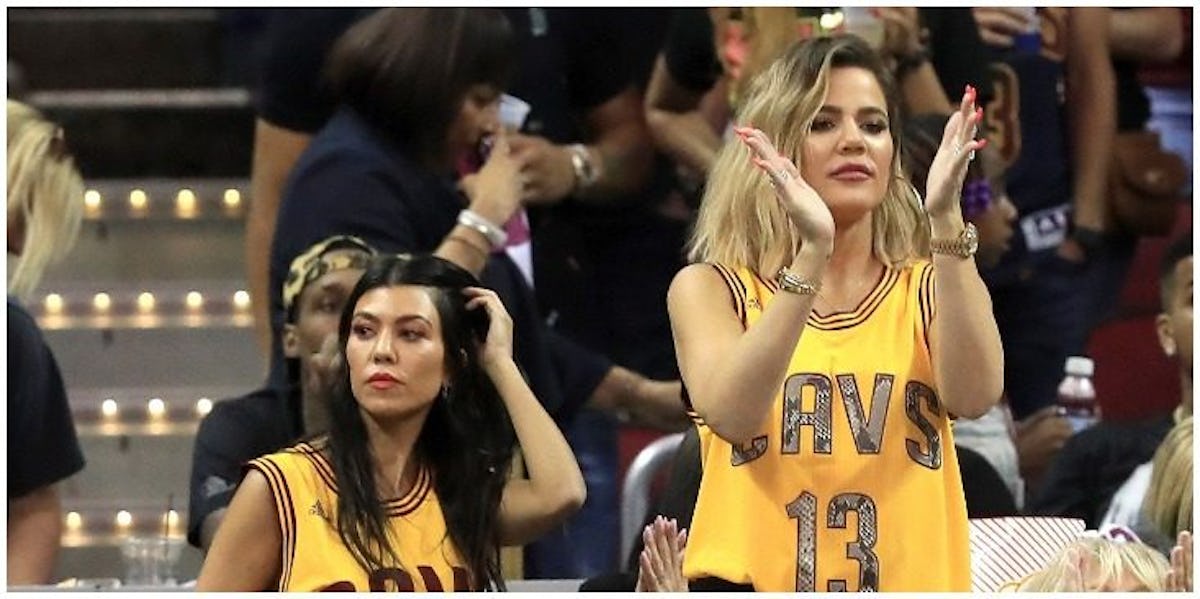 Twitter Is Going Nuts Over The News That Khloe Kardashian Might Be Pregnant Too
Ronald Martinez/Getty Images
Only days after news broke that Kylie Jenner is reportedly pregnant, another -- and arguably the best -- Kardashian is making headlines for allegedly also being with child. According to Us Weekly, Khloé Kardashian is pregnant with boyfriend Tristan Thompson's baby. And right on time, the tweets about Khloé Kardashian being pregnant are rife with speculation and jokes.
UPDATE: On Dec. 20, Khloé Kardashian confirmed that she is expecting a baby with Tristan Thompson in an Instagram post.
EARLIER: Guess I'm gonna have to wait about 9 months to have more Kocktails with Khloé. (Don't even TRY to remind me that it was kancelled.)
Kardashian has been with Thompson, a power forward and center for the Cleveland Cavaliers, since they were set up on a blind date in Sept. 2016, according to Us Weekly. In a recent interview with You Magazine, Kardashian discussed the relationship, saying, "I'm in the best relationship I've ever been in and it doesn't take a ring for me to feel that way."
The subject of kids also came up. She told the publication,
I definitely want a family, but I don't feel any pressure. Tristan is a great dad [he has an eight-month-old son with his previous partner] and he definitely wants more children, but we both feel that it will happen when the time is right. We're still in a new relationship and I love us having time together. Once you have kids you can't get back your non-kid years. My sisters and I bother my mum [sic] all the time, so I know it's not, like, "When they're 18, you don't worry about them again." You worry about your children for the rest of your life. The concern I have is raising little human beings in a world that's filled with such hate and terror. That seems very scary.
"It will happen when the time is right." It seems, then, that now is the time -- right when reports that younger half-sister Kylie Jenner is pregnant by boyfriend Travis Scott, and older sister Kim is having another child with husband Kanye West through a surrogate.
So. Many. Babies. Though I've heard these things come in threes, so, you know.
The news hit on a particularly busy day. But that doesn't mean we don't have time to focus on the best Kardashian.
But, of course, some people are wondering if there's something in the water in Los Angeles County.
Of course, others believe that Mama Kris -- master of the Kardashian empire -- had something to do with the recent rash of pregnant family members.
To be fair, Kris does not f*ck around when it comes to keeping the Kardashians on the vanguard of American pop culture. Or something to that effect. So I would not be in the least bit surprised.
Literally, this woman should be in charge of everything.
Soon everyone in the world will either be a Kardashian, a Jenner, or somehow related to the Kardashian-Jenner clan.
People will start wearing high ponytails and greige lipstick and giving their most intense smizes instead of just smiling for cameras. Instead of swearing, we'll say, "Bible it" or "I swear on Bible!" Vocal fry and upspeak will be rampant, and Kris Jenner will run the world like a business. But a successful one. Unlike other supposed moguls who have made certain promises. It'll be delicious.
And while the pregnancy has yet to be confirmed by Khloé herself, there are hints.
Buzzfeed News echoes Us Weekly's initial report, seemingly confirming the news.
Posi vibes only for Khloé.
Khloé was always my favorite Kardashian -- a status which was solidified the first time she appeared on RuPaul's Drag Race.
But for real, after everything she has gone through in the past, and her wicked sense of humor and vocal support of body positivity, this is happy news for the business mogul. Kongrats, Khlo.