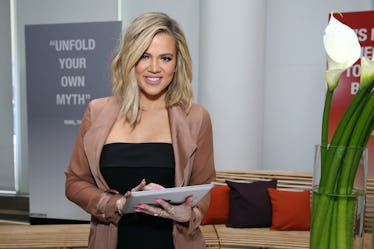 Khloé Kardashian Responds To Fans On Instagram About Having A Baby Bump
Cindy Ord/Getty Images Entertainment/Getty Images
Ever since the news broke that Khloé Kardashian is reportedly pregnant, fans have been looking for confirmation... or denial. Or something. Well, Khloé Kardashian responded to baby bump comments on Instagram and, as you'd expect, fans are pretty psyched to hear from Khloé herself on the matter.
Before I get ahead of myself, however, this is not by any means an official announcement on anything, just Kardashian hitting up the Instagram comments to shoot down fans who believed they spotted a baby bump in some recent pics.
So, let's dive in, shall we? Kardashian has been talking about the new season of her Good American line of clothing for days, kicking things off with a video that announced: "Can't believe it's been nearly one year of @goodamerican!! Welcome these beautiful ladies to the #GOODSQUAD!!"
Today, she posted some pics of herself and model Slick Woods, with Kardashian looking gorgeous in a super tight off the shoulder top and miniskirt. She captioned the pic: "JUST DROPPED!! One of my favorite minis!! The sexiest waxed leather-like @goodamericandenim!! You'll be rocking these all season long ladies. Get yours now on goodamerican.com #GoodSquad #GoodAmerica."
Of course, the internet detectives came out to analyze every detail of the pic, most notably Kardashian's body language with her arm placed just so across her stomach. Let the baby bump comments begin in 3... 2... 1...
Yep, if you take a peek at the Insta post, there are comments like "BUMP," "Am I seeing a bump???," "She's pregnant I can tell from the shape of her stomach," and "Can see your little bump. Love the outfit."
Kardashian herself waded into the comments and epically shot down all the bump discussion by pointing out the shape of the top, writing: "This is a peplum shirt. It flairs out at the bottom. It's just the way the shirt is designed. In some of the next pictures coming up from the SAME shoot, I'm in a crop top. Showing a lot of skin... "
Shut. It. Down. And yeah, we're now all eagerly waiting for that crop top pic.
That wasn't the only chatter about her most recent Instagram pics, however, as she took a fair amount of heat for one featuring the model crouching at her feet.
Some people found it "disrespectful" and "distasteful," as a debate waged on about whether or not the pic was racist.
One fan noted why there was an uproar over the shot, explaining: "Body language is everything and this is not okay ! Ask your photographers what type of body language do you thing this pose should imply? Because this is racist. Look up the history behind rich white women taking pics of there slave maids."
On Twitter, one fan noted: "Khloe isn't racist but having a black woman crouch at her feet was stupid and she should have known that. Like the public already has a perception about the family so she should try to avoid feeding into it."
While Kardashian didn't comment on the photo, she did post a selfie on Instagram with this caption: "Lord,
Thank You for giving me the health and strength I need to overcome every stronghold in my life and for loving me unconditionally in the times that I may fail you. Amen."
Not sure if that's speaking to the outrage over her pic or just a prayer of thanks for the day.
Kardashian is keeping the focus on business, with tweets announcing a celebration for the year anniversary of Good American.
She tweeted: "We'll be talking body positivity, inclusivity in fashion AND we have some exciting news! I hope to see you there!! 4pm Saturday!!" Hmm... wonder what the "exciting news" is.
I'm digging Kardashian's message of "body positivity, inclusivity in fashion" though. As the Good American Twitter bio states, the clothes are "Designed for a curvier, sexier and stronger shape."
Refreshing.
Check out the entire Gen Why series and other videos on Facebook and the Bustle app across Apple TV, Roku, and Amazon FireTV.