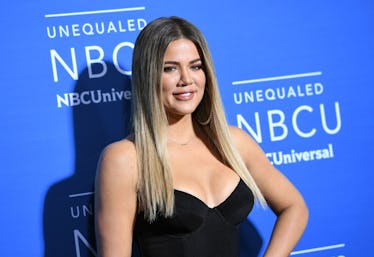 Khloé Kardashian Is Being Called Out By Fans For "Racist" Photo On Instagram
ANGELA WEISS/AFP/Getty Images
Khloé Kardashian is used to making headlines, but there's some new chatter about an Instagram pic she posted. Find out why Khloé Kardashian's Instagram photo is being called racist by some fans. The photo is part of her new photo shoot for her Good American clothing line.
In one pic, Kardashian and model Slick Woods pose together, with Khloé standing and Woods crouched down, holding onto Kardashian's leg while she rests her hand behind Woods' head and neck.
Plenty of fans are in an uproar over the image. Some people even thought Kardashian should delete the photo altogether.
Kardashian has yet to respond to the backlash, though she did post a few photos to Instagram. The first was a photo of some bright pink and white peonies, with the caption "a few of my favorite things." Afterwards, she posted a gorgeous selfie with hearts surrounding her face. The caption included a little prayer, writing: "Lord,
 Thank You for giving me the health and strength I need to overcome every strong hold in my life and for loving me unconditionally in the times that I may fail you. Amen."
Does this post have anything to do with the image that people are upset about?
A couple of days ago, Kardashian started building the excitement about her Good American brand by posting a video, captioning it: "Can't believe it's been nearly oneyear of @goodamerican!! Welcome these beautiful ladies to the #GOODSQUAD!!" The video shows models of varying shapes and sizes sporting the fashion line with the tagline: "Embrace all curves. Good Squad."
On Thursday, Oct. 5, along with a pic of Kardashian in a skin-tight leather mini skirt and jacket, she announced: "JUST DROPPED!! One of my favorite minis!! The sexiest waxed leather-like @goodamerican denim!! You'll be rocking these all season long ladies. Get yours now on goodamerican.com #GoodSquad #GoodAmerica."
In the next Instagram post, she's seen posing with Woods, with the first pic showing the model standing, smiling behind Kardashian, and the next much disputed pic where Woods seems to crouch at Kardashian's feet.
She captioned it: "This chick right here is crazy, sexy, cool all rolled into one @slickwoods! Slick was so much fun to shoot with! She's a force to be reckoned with! #GoodSquad #GoodAmerican."
Complaints ranged from: "THIS IS MAD DISRESPECTFUL @khloekardashian WTF IS THIS" to "Distasteful" and "Love khlo but second photo is very disturbing."
One fan explained: "Body language is everything and this is not okay! Ask your photographers what type of body language do you thing this pose should imply? Because this is racist. Look up the history behind rich white women taking pics of there slave maids."
Similarly, on Twitter, fans weighed in, with one writing: "Khloe isn't racist but having a black woman crouch at her feet was stupid and she should have known that. Like the public already has a perception about the family so she should try to avoid feeding into it."
Another, however, wasn't having it, tweeting: "Y'all tryna make out Khloé is racist?? Because of one damn photo?? Nah, ain't gonna happen."
One fan thought the pic was simply "weird," tweeting: "This is such a weird photo. It's like the woman is a big dog and Khloe is patting her."
Now back to that pic of Kardashian in the tight outfit with her arm across her stomach... people swore this was a definite sign that the reports about her pregnancy are true. People left comments like "she looks pregnant" and "You can see that baby bump!"
Kardashian was quick to settle all the rumors about a baby bump, however, responding in the Instagram comments: "this is a peplum shirt. It flairs out at the bottom. It's just the way the shirt is designed. In some of the next pictures coming up from the SAME shoot, I'm in a crop top. Showing a lot of skin..."
Fans were thrilled to see her response, with one commenting: "The fact that Khloe comments back and shuts down the haters. That shows you she's real. You look amazing and are such an inspiration. You go girl!"
Way to shut it down.
Check out the entire Gen Why series and other videos on Facebook and the Bustle app across Apple TV, Roku, and Amazon FireTV.