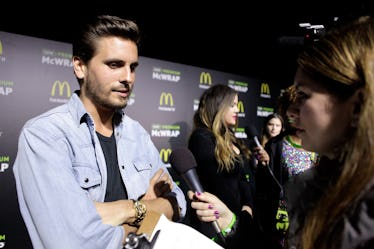 Scott Disick Basically Confirms Khloé Kardashian's Pregnancy & We're In Shock
Mike Windle/Getty Images Entertainment/Getty Images
Mama Kris probably isn't going to be pleased with this latest doozy. Reports circulated that close to every member of the Kardashian-Jenner circle might be expecting a baby, and the favorite family troublemaker didn't make much of an effort to dispute the "rumors." Scott Disick basically confirmed Khloé Kardashian's pregnancy, and no one can believe what he just said.
Oct. 14 might've been the grand opening of the Sugar Factory in Bellevue, Washington, but let's face it: Everyone needed the scoop on the tiny tots. When interviewers spotted the 34-year-old at the event, they asked him about giving baby advice for the supposed mom-to-be, Khloé. He and the youngest female Kardash have a close relationship, so it comes as no surprise that he'd have some hand in helping her raise her baby (should she actually be pregnant).
When speaking with E! News, Disick totally answered a question about the baby advice he'd give to KoKo... and he didn't acknowledge whether or not these pregnancy speculations were true or false. Hmm. Here's what he said:
"If she ever asks, I'm sure I would try. But I feel like all of us are so close that all of our children are kind of brought up in the same vicinity, or one block over, that everybody's kind of there for each other. I don't really need to give advice per se because we are right there. It's not like long-distance, 'Hey, maybe you should try this?' Everybody's so hands-on that I feel like it will happen within time, so no real advice in that sense."
What does this all mean, Scott?
It certainly sounds like Disick is saying that he and the rest of the Kardashian clan plan to raise their children within close vicinity to one another (no surprise there), but it's rather interesting that he didn't take the interview op to confirm or deny KoKo's pregnancy rumors. Why wouldn't he dodge the bullet on pregnancy questions? Did he just spill the beans? So. Many. Questions.
Meanwhile, reports claim that Kourtney Kardashian, the mother of Disick's three children, might also be pregnant. Is your head spinning yet? Kourt is not one to get too wrapped up in what's happening with the headlines — she just continues to post super sexy snaps, even when people begin to question if she's expecting with her boyfriend of nearly a year, Younes Bendjima. You do you, Kourt.
Meanwhile, fans think they're closer than ever to guessing what's actually happening with Ms. Kylie Jenner. Since this family cannot resist a few social media posts — despite the fact that the young starlet said she'd do away with Instagram when she comes a mother, so she can "just live life" — Jenner gave a little tease on Snapchat... or so people think. She held up versions of her Kylie Lip Kit phone cases, one with blue lipstick, the other with pink lipstick. She wrote, "Which one? I'm thinking blue..." Naturally, fans lost their cool and assumed this meant that Kylie is expecting a baby boy.
Things are certainly getting quite intense. All three Kardashian sisters are reportedly pregnant or expecting through a surrogate (Kim, we're looking at you) and step-sis Kylie Jenner might be expecting a tiny tot of her own. Though fans are patiently (read: not-so patiently) waiting for the ladies to confirm the rumors themselves, it looks like they'll have to hang tight just a bit longer and look to social media for clues in the meantime. Reporters, if you're in need of a scoop, might I suggest you try talking to Lord Disick first? That's probably a sound option if you're in need of the 4-1-1.
Check out the entire Gen Why series and other videos on Facebook and the Bustle app across Apple TV, Roku, and Amazon Fire TV.