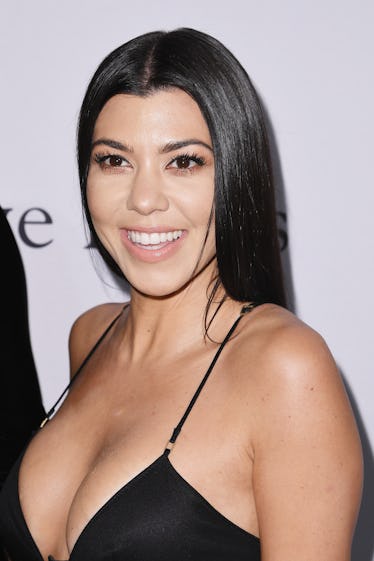 Kourtney Kardashian DGAF About Pregnancy Reports, Keeps Posting On Snapchat
Kevork Djansezian/Getty Images Entertainment/Getty Images
If you think Kourtney gives one little F about the world wondering if she's going to have another baby, think again. It seems we wake up each day to a new pregnancy report about a Kardashian, and on Thursday, Oct. 12, it was no different. On this day, rumors about the oldest sister, Kourt, having a child with boyfriend Younes Bendjima began to circulate. However, Kourtney Kardashian's response to her pregnancy reports is so, so chill and we love her for it.
Elite Daily reached out to Kardashian's team and Bendjima's team for comment but did not hear back by the time of publication.
You guys know the drill. You're a famous reality TV star and all of your younger sisters are reportedly getting pregnant at the same time. You happen to be dating a super smoking hot 24-year-old model after years and years of a destructive relationship with Scott Disick, and now, maybe you're pregnant. Mass hysteria ensues.
Kardashian has been dating Younes Bendjima for almost a year, and is noticeably smitten. While she already shares three children with Disick, Kardashian has left the door open for more kids in the future. Right now, she is busy with son Mason, daughter Penelope, and youngest son Reign, but we suspect there's an empty bedroom that could quickly be turned into another nursery somewhere in her home.
After Life & Style broke the news that she might be expecting, Kourtney did exactly what we thought she would do: post some hot Snapchats in leather pants and an inspirational message, of course.
So much chill.
While the rest of the world is on high Kardashian womb alert, Kourt is like, "Here I am rocking some skinny-*ss leather pants and a twinkle filter."
KOURTNEY, GIVE US SOMETHING.
We can guess that if her reported pregnancy is going to be anything like her sister's reported pregnancies, the public can count on getting, well, not that much information.
When news broke that younger sisters Kylie and Khloé are reportedly expecting with their boyfriends, we weirdly received a ton of specific info like due dates and quotes from various sources, yet still nothing has been confirmed.
All we know is that Kylie and Khloé, who are both known to flaunt their bodies, have been suspiciously low-key hiding from the public lately. Instead, they have been serving us old photos on Instagram and pictures from their necks up.
If the rumors are true about Kourtney, that means all we need is for sister Kendall to get pregnant to make it a full house. (That's the phrase, right?)
On his part, Kourtney's ex Scott Disick has yet to comment, but we can almost guarantee something will come out of his mouth.
In fact, a source told Life & Style that Disick is on a mission to ruin Kourtney's relationship with Bendjima. The source said,
Scott will do anything to sabotage Kourtney's relationship, including showing up wherever Kourtney and Younes are hanging out together. He's also been asking around, trying to get some dirt on Younes so he can bring it back to Kourt and persuade her to dump him.
Oof. Rough.
Despite Disick's current relationship status with new girlfriend Sofia Richie, something tells me he won't take it too well if the pregnancy rumors turn out to be true. (Call it a hunch, or years and years of his documented impulsive and destructive behavior.)
Whatever happens, we wish everyone involved the best and can't wait to get more information!
Kourt, keep the snaps coming.
Check out the entire Gen Why series and other videos on Facebook and the Bustle app across Apple TV, Roku, and Amazon Fire TV.