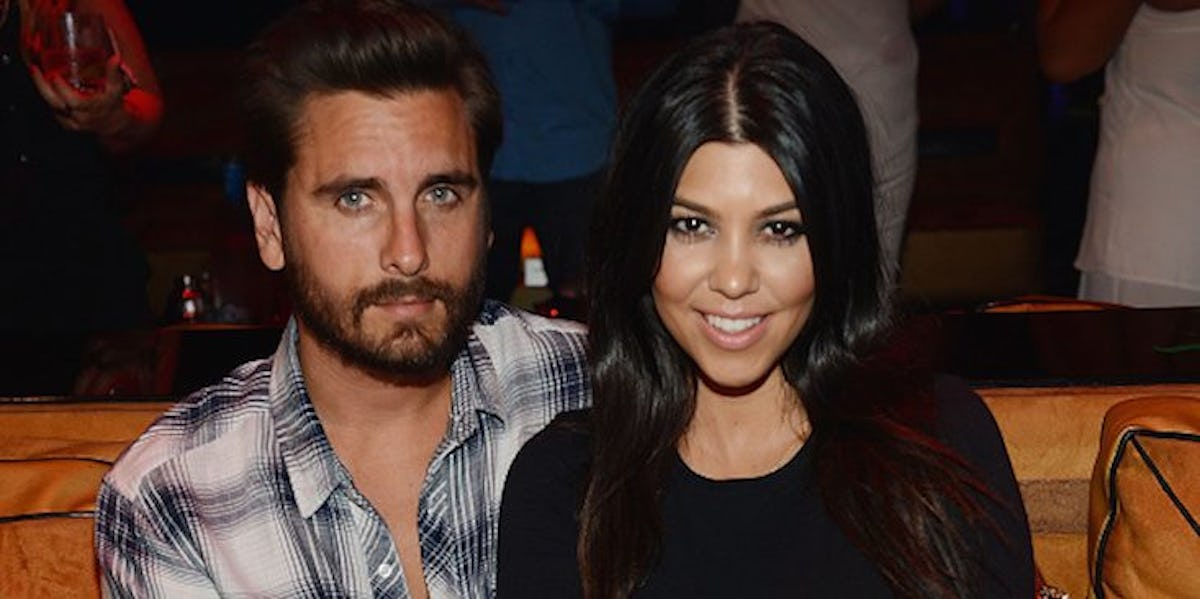 Scott Disick Admits He's Still In Love With Kourtney Kardashian & Her Response Is Cringeworthy
Getty Images
10 years is a long time — just ask the Kardashians. The 10-year reunion special of Keeping Up With The Kardashians showed just how far they've come as a family. Show host and creator, Ryan Seacrest, played some never-before-seen clips and TODD KRAINES MADE AN APPEARANCE. It was clear that there has been one constant in the lives of all the Kardashians: Scott Disick. They often refer to him as family, no matter what his dating status is with Kourtney Kardashian. Our host and fearless leader, Seacrest, got down to business about him and Kourtney, and fans will leave the special with one huge question answered: Does Scott Disick still love Kourtney Kardashian?
Scott and Kourtney are the ultimate on-again, off-again couple. In case you're wondering, this has been happening for the past 10 years. Scott and Kourtney's dating timeline gets a little complicated. According to Cosmopolitan, we have known Scott Disick for as long as we've known the Kardashians.
2007: The very first episode of Keeping Up With The Kardashians airs in October. Kourtney and Scott hadn't been together that long, but the first season focuses on their pregnancy scare.
2009: Kourtney and Scott break up for the first time. Scott was caught red-handed texting a woman called "My Wife" in his contacts. Do you want to hear something gross? In 2009, Sofia Richie, Scott's current rumored fling, would have been 11. Ewwww. Scott and Kourtney did get back together just a few months after this first break-up.
2009: In December, their first child, Mason, was born. We all saw Kourtney's labor on KUWTK, still trying to forget it.
2010: Scott's drinking and partying starts getting out of control. On a phone call with Scott during an episode of Kourtney and Khloé Take Miami, Kourtney said,
You're not going to be around Mason while you're working on yourself ... There's not even a one percent chance ... I can't do this anymore. I love Mason more than I love you. And that's what it is.
2011: Scott proposes to Kourtney during the first season of Kim and Kourtney Take New York. She said no. Maj awk.
2012: Scott and Kourtney's daughter, Penelope, is born.
2014: In November, Scott gives rehab a try, but ends up leaving early. Their third child, Reign, is born in December.
2015: Scott gives rehab another try in Costa Rica.
2015: Kourtney and Scott break up after pictures show Scott partying on a yacht with a lot of women.
2016: Scott and Kourtney take a family trip to Mexico with the kids. They seem on the path to getting back together.
Between then and now is a slew of mysterious photos suggesting Scott and Kourtney are back together mixed with Scott hanging out with random models. They truly have a bizarre relationship, but one thing remains constant — the stability for their kids. During the 10-year anniversary special, Kourtney made it very clear that the two put a big emphasis on co-parenting and work hard to maintain that balance. When Scott joined the family during the TV special he admitted,
She's the only person I've ever loved in my life.
The crowd let out a giant "awww" and Kourtney smiled. He continued,
We have a beautiful relationship where we're able to travel with our family, but obviously it is difficult for the intimacy side... it's tough.
Scott assured us he's "jerking off pretty heavy" for intimacy. Classic Disick. It's apparent that the two of them don't know where their relationship lies most of the time.
When Seacrest asked if there was a chance the two could get back together, Kourtney jokingly said,
I mean, the debauchery that has gone on has definitely closed the door several million times.
These two seem to love a little drama. Scott even added,
Every time I become too good of a person, she stops loving me because she fell in love with a guy who's a little f*cked up.
Whether that's true or not, things got a little awkward when Scott took the jokes a little too far. Scott got down on one knee and said, "Is this out of the question for you?" Everybody froze in fear at the fake proposal, but Scott immediately started cracking up. A wave of relief washed over everyone and Khloé said,
Oh my God, I was going to say... not the right time.
As it turns out, Scott's many flings don't really seem to phase Kourtney. Seacrest asked Scott if he dates other women. Scott replied no, but added a wink just so we all know that he for sure gets a lot of ass. Thanks, bud.
Seacrest asked if Kourtney was OK with this and she said,
Yes. It's not dating it's just...
Then Kim interjected with "boning." And we all agreed. Basically, nobody knows what's going on with Kourtney and Scott — not even them. I think Kylie best summed it up when she said, "I'm rooting for them, I love Skort." Same, Kylie, same.
Check out the entire Gen Why series and other videos on Facebook and the Bustle app across Apple TV, Roku, and Amazon Fire TV.