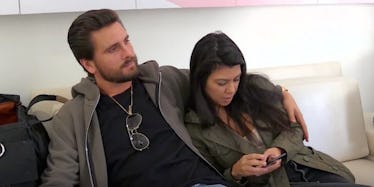 Scott Disick Reportedly Proposed To Kourtney Kardashian On Their Family Vacay
E!
This needs to stop happening.
Scott Disick reportedly proposed to Kourtney Kardashian during a four-day vacation to Costa Rica with their family. Thankfully, Kourtney allegedly rejected his proposal so we can all breath a little easier knowing we don't have to deal with another round of Kisick (Sourtney?).
Us Weekly reports E!'s cameras were filming when the proposal happened, so we can all look forward to this hopefully making its way onto an upcoming "Keeping Up with the Kardashians" episode.
A source close to the family told Us Weekly he didn't propose with a ring. The source explained, "He just said, 'Let's get married.'"
Kourtney is trying to keep their all-too-close relationship as platonic as humanly possible, though.
The source says,
She told him no. Scott was embarrassed, upset and angry.
This isn't the first time that Kourtney has avoided being legally tied down to Scott since the two started dating in 2006.
In 2011, Scott famously purchased an engagement ring during the season finale of "Kourtney And Kim Take New York." When Scott asked Kourtney what she thought about getting married, she said she was already fine with the way things were going and didn't want that to change.
After the talk, Scott decided not to propose.
For the past few years, Kourtney has been very clear about not wanting to rekindle anything with Scott until he cleans up his act. For the past two years, he has been on a mission to try and do that. He only attends clubs for paid appearances nowadays and in 2015 he got sober at a Miami rehab center.
Scott didn't exactly take this last proposal rejection well. After Kourtney told him she didn't want to get married, he reportedly flew another woman to the Papagayo Peninsula and stayed with her in the production department's hotel.
He was also spotted making out with two other women in Miami right after the trip.
The fact he's with another person isn't that big of a deal to Kourtney, though. Another source close to the family says,
Kourtney is not upset he's seeing other women. She's upset he'd disrupt the trip with the kids. If you're dating someone important, bring her to meet the family. Don't hide her.
TLDR: Justin Bieber still has a chance!
Citations: Kourtney Kardashian Rejected Scott Disick's Marriage Proposal While on Family Vacation in Costa Rica (Us Weekly)