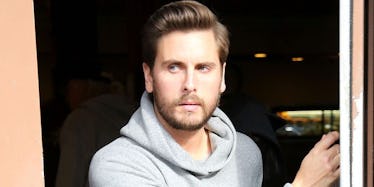 Scott Disick's Reason He Ditched Kourtney For That Model Makes So Much Sense
REX/Shutterstock
If you've been beating the winter blues by living vicariously through the Kardashians on their lavish Costa Rica vacation, then you probably know Scott Disick isn't there anymore.
Instead, he's been cozying up poolside with a mystery woman in Miami, and we finally know why he left Kourtney behind in the tropics.
Apparently, he got into a heated argument with Kim and Kris while they were in Costa Rica because of a woman Disick had secretly been housing there, TMZ reports.
After the alleged brawl, he fled the country and headed to Miami.
Ah, it all makes sense now.
Sources told TMZ Scott secretly flew a girl to Costa Rica during the family's vacay and put her up in the same hotel the crew was staying in.
Of course, he says he didn't want the star-studded family to find out... but if that was really the case, why in the world would he house his mistress in the same hotel the show's crew was sleeping in?!
That's just asking for trouble.
Surely enough, someone from the crew told Kris and Kim about the woman Scott was housing inside their hotel, and shit went down Kardashian-style.
It's been reported by the source Kourtney's mother and sister had a "ferocious" argument with the father-of-three, calling his stunt "disrespectful" and "disruptive."
Alas, he left the tropics for Miami and met up with a different woman (who knows what happened to the lady he housed in Costa Rica -- if I were her, I'd live it up in the hotel at Scott's expense).
Even though Kourtney and Scott aren't together at the moment, she's still pissed about the amount of partying he's been doing while she takes care of their children.
A source told People about Kourt's opinion on the matter,
Kourtney hasn't been happy with Scott for weeks. It has nothing to do with what he is doing in Miami right now. She just doesn't like when he parties. He is an irresponsible dad when he parties.
In my opinion, Kourtney has every right to be mad. If my ex-boyfriend and father-of-three kept a side chick in a hotel during our vacation and then fled to Miami to meet another, you better believe I'd be pissed.
When will you learn, Scott?! C'mon!
Citations: Kourtney Kardashian 'Not Happy' with Scott Disick's Partying: She 'Wants Him to Make Good Choices' for Their Kids, Says Source (PEOPLE), SCOTT DISICK Bolted from Costa Rica AFTER BLOWOUT FIGHT WITH KRIS AND KIM (TMZ)