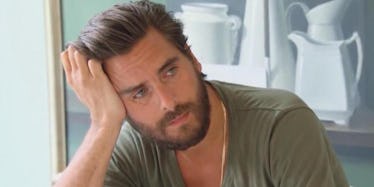 Scott Disick Kisses Mystery Woman In Pics After Leaving Trip With Kourtney K
E!
Scott Disick was photographed kissing and cuddling a very young looking girl in Miami on Monday, according to a report from TMZ.
So... can we kick Scott Disick out of the Kardashian family yet?
Like, at what point will this man do something so disgusting that we, as a society, can finally agree he doesn't deserve to be rewarded with fame and fortune?
For example, here are those photos of Scott Disick fondling what looks like a teen girl, to me.
Here is the video version of those beach photos.
And here is the video version of those pool photos.
Yep, that's definitely Scott kissing some girl's neck in a pool. And yep, that girl in the pool definitely does not look a day over 20 years old. (Scott is 33.)
Meanwhile, 37-year-old Kourtney Kardashian is presumably at home taking care of her and Scott's three kids.
In case you need a refresher, their oldest son, Mason Disick, is 7 years old. Again, this is all guesswork, but I'm willing to bet that makes Mason about half the age of Scott's latest conquest.
WTF SCOTT? I thought you and Kourtney were doing really well! Did that romantic trip to Disneyland together last month mean NOTHING to you?
Not to mention the fact that Scott and Kourtney literally just took a family vacation to Costa Rica together.
Like, he posted that photo on Instagram three days ago! He called Kourtney "Mom!" And then he went off and made out with a child three days later!
That's how you treat your beloved baby mama, Scott?
Seriously, Scott. Get it together. Your defined and abnormally large penis is no excuse for this kind of behavior. Kourtney deserves so much more.
Again, can we kick Scott off "Keeping up with the Kardashians" for this, or...?
Scott is officially out of chances. I don't want to hear another word from fans who want them to be together ever again. I don't care if they full on kiss on camera — Kourtney needs to move on.
That, or she needs to cut him. Either of these two options will do.
Citations: SCOTT DISICK BIENVENIDO A MIAMI WITH HOT CHICK! Flees Kardashian Vacay (TMZ)