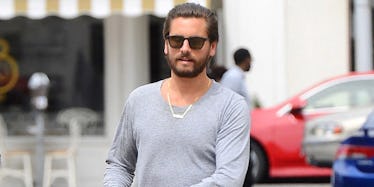 Scott Disick Shows Off His Penis In Pants That Leave Little To The Imagination
REX/Shutterstock
NOTE: For those who condemn the objectification of a successful, white, cisgendered man who enjoys a life free of personal/professional marginalization, exploitation and routine shame based solely on his gender/sexuality, this post is probably not for you.
BUCKLE UP, THIRSTY WANGWOLVES, BECAUSE DICK SHADOW SEASON IS BACK!
In the tradition of Idris Elba and Jon Hamm, Scott Disick threw on some wispy sweats and hit the town, dick-first.
Scotty D ambled around Calabasas on Wednesday sporting some seriously visible dick lines and chunky, white sneakers he stole from a nameless ER nurse.
While we all love a good shaft sighting, Scott's peen precedes him (like, literally, but also in legend).
Back in 2011, Lord Disick's meal ticket and mother of the three beautiful children he once claimed she "[keeps] suckering [him] into," Kourtney Kardashian, told XoJane Scott's dangle looks "like an elephant's trunk."
Sister Kim Kardashian West added,
Honestly, it's way too much… He has to start wearing some tighty-whities.
On a 2010 episode of "Keeping Up With The Kardashians," Kris Jenner walked in on naked Scott and later confided to Kim his pork sword appeared "smaller than a champagne bottle and bigger than a squash."
Despite the potential awkwardness of the entire Kardashian family's ability to describe Scott's meatloaf with the loving precision of one of those middle-aged erotic poets, the 33-year-old joined Kim in Dubai last week for some extravagant, rich-person dining.
Please observe a brief moment of silence in honor of all the jokes I respectfully refrained from writing (re: this table as a visual metaphor for Scott's pool noodle).
It may be the dead of winter, but knowing there are massive celebrity D's flopping freely around America's major cities is enough to usher in a premature spring.
Groundhog Day can eat a butt because according to dick shadows like Scott's, we're looking at an early equinox.
Citations: Scott Disick Shows Bulge In Pictures (Daily Mail)