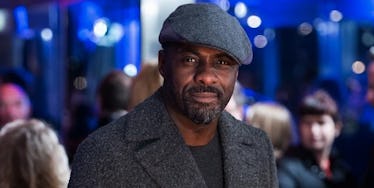 Idris Elba Accidentally Showed Us His D*ck, And It Looks F*cking Insane (Photo)
Getty Images
The hottest accessory for any man's winter wardrobe is a visible penis.
This style is easier for some men to achieve than others, but stars like Jon Hamm, Justin Theroux and, now, Idris Elba proved the dick shadow is not going anywhere.
Hamm made the look famous back in 2013, and Idris recently took it to the next level in khakis, a daring feat considering most men have better luck displaying their dick shadows in sweats.
In New York this afternoon, Elba posed for a photo that speaks for itself.
Ladies might want to consider fabricating dick shadows of their own in the coming months, because by this time next year, a pair of pants just won't look complete without a little something down in front.