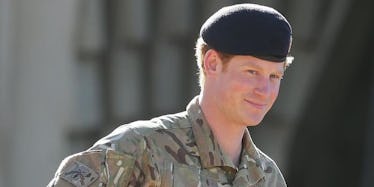 Prince Harry's Bulge Is The Only Thing You'll Look At In These Photos
Getty Images
Some people, like Prince Harry, for example, just seem to have it all.
If being a gorgeous, polo-playing prince wasn't impressive enough, you'll be glad to know this fine fella is also pretty blessed below the belt line.
Remember when we introduced you to the glory that is "grey sweatpants season"?
Well, Prince Harry just proved grey shorts have the same effect as their full-length counterparts.
That's right. Harry gave the world a glimpse of his highborn bulge while rocking some grey shorts during a game of rugby in South Africa earlier today, and I have to say, the size of this thing is insane.
Now, people are pretty much losing their minds over the prince's glorious package.
Take a look at the pictures below to see this well-endowed member of the royal family.
Prince Harry just gave us a hint of what he's hiding beneath those shorts...
And it's not hard to see this royal prince is armed with a seriously impressive sword.
Really, just look at the size of his insane bulge.
Citations: Stop Everything and Look at Prince Harry's Bulge (Cosmopolitan)