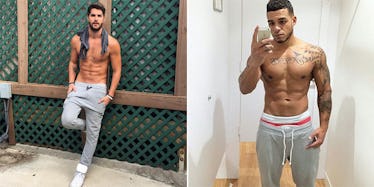 Women Are Going Crazy Over Guys In Grey Sweatpants This Season (Photos)
Sure, we've all heard about "Leggings Season."
It's the time of year when girls show off their best ass-ets in stretchy, skin-tight pants and it's the season guys dream about all year long.
But did you know ladies have their very own version of this cold weather occasion?
Now, I know what you're thinking... and don't worry, guys aren't running around in "meggings" or anything.
Apparently, sweatpants are the male equivalent of leggings.
Grey sweatpants to be exact.
Yep, grey sweatpants season is actually a thing and it's pretty damn glorious.
Like many ladies out there, I was a bit skeptical at first, but upon further investigation, I've come to find this casual attire definitely lives up to expectations.
There's just something about those grey sweatpants that makes a guy seem hot AF.
Not to mention, that fuzzy fabric really has a way of hugging all the right places, if you know what I mean.
Seriously, you'll never be able to look at a guy in grey sweatpants the same way ever again.
Take a look at the pictures below to see this heavenly time of year.
Move over leggings season...
FUCK CUFFING SEASON IM READY FOR GRAY SWEATPANTS SEASON — cheerwine mami (@lilbaabysav) October 19, 2015
...there's a new type of pants taking sweater weather by storm.
It is here. Boys sweatpants season. This is what dreams are made of. — Ashley D (@ash_d94) November 23, 2015
It turns out men have their own tantalizing version of leggings season and no, we're not referring to "meggings."
It's called "grey sweatpants season"...
My favorite time of year... Gray sweatpants season — Bethany Kellon (@bethanyk07x) October 22, 2015
...and it's pretty f*cking amazing to say the least.
Gray sweatpants season be having me on campus like pic.twitter.com/3tQgPYUFmp — Kendra. (@_exoticaaa) September 3, 2015
Seriously, who knew sweatpants could be so damn sexy?
I mean, just look at these sizzlin' studs.
It's basically like "50 Shades of Grey: Sweatpants Edition."
Autumn is approaching...gray sweat pants season...Crotch Watch 2015 — Bushido Brown (@DancinInAMirror) September 10, 2015
Yep, there's just something about grey sweatpants that makes a guy seem totally irresistible.
Gray sweatpants are just amazing on males. Thank you God for such a blessing. — Ash (@LavageAsh) November 15, 2015
Maybe it's the way those pants hang on a man's hips...
...and highlight his alluring V-cut.
Or maybe it's the fact these pants cling to all the right places...
...and hint at what's hiding beneath that grey fabric.
when you see that dick print in them gray sweatpants pic.twitter.com/5RzCJiPinB — hoodbrat (@qweenpush) June 10, 2014
Whatever the reason may be, ladies are losing their sh*t over grey sweatpants season.
"Gray sweatpants season" have me like... pic.twitter.com/dsbzDkabhR — December 3rd ♐️ (@_AYOslimmm) September 16, 2015
But then again, you can't really blame them. I mean, just look at these babes!
If wearing grey sweatpants is wrong, I don't want to be right.