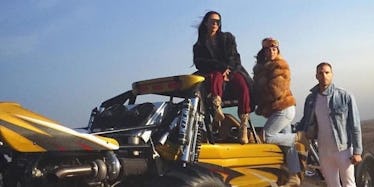 Kim Kardashian Is The Queen Of Four-Wheeling While Cruising To 'Ridin' Dirty'
Instagram
Man, does this look like a strenuous business trip or what?
On January 14, Kim Kardashian was ridin' dirty in the Dubai dessert with buddies while supporting friend and makeup artist Mario Dedivanovic, who was holding master classes in the city and using the reality starlet as his model.
But enough about work — that's boring. Let's watch this snap Kim K posted while four-wheeling (as seen on the fan Instagram account "kimsnapchats").
Sing it with me now, "They see me rollin', they hatin' ..."
We especially appreciate those over-sized sunglasses and that killer lip ring, Kim K.
And wow — "Ridin' Dirty" is an awesome song selection to play in this snap with your squad. If I didn't know any better, I'd say this was my junior year of high school all over again. This was totally everyone's jam at prom.
If you need another look at her #lifestyle, check out this sexy pic she posted with the crew while on her "business trip."
This is very tough work, indeed. I sure hope she's being compensated adequately for such extensive snaps while playing in the dunes. What would be even more impressive is if she managed to keep her makeup on while doing this.
Speaking of makeup, that's what brought the "Keeping Up With The Kardashians" star to Dubai in the first place.
In Dedivanovic's master class — which ranged from about $500 to $1,600 — Kim was sporting a white tank and jeans while he applied her makeup.
"Let's hope that Mario does a good job," Kim says at one point.
Oh Kimmy, you kid, you kid.
Regardless of how draining her so-called business trip might have been (or obviously, not), it seems that the 36-year-old is slowly getting back to her normal ways after her Paris robbery.
It's been a difficult few months for Kardashian and her family — and her fans, who didn't know what to do without her continuous social media updates — but I think it's safe to say that Kim K is returning to her old ways.
More social media fun to come! *crosses fingers*
Citations: Kim Kardashian Goes Four-Wheeling in Dubai Desert During Business Trip (US Weekly)