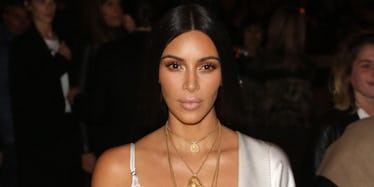 Kim Kardashian Robbery Now Has 10 Suspects Charged, Including 70-Year-Old Lady
REX/Shutterstock
New developments regarding the Kim Kardashian robbery are here, and they're weird AF.
Well, maybe "weird" is the wrong word, but there's nothing normal about discovering a 70-year-old woman was one of the suspects charged for their involvement in the October 3 Paris robbery.
Earlier this week, news broke that 17 suspects had been arrested in connection with the incident.
Since then, French police have been able to justify charging four suspects out of the 17 arrested. Now, recent developments indicate six more suspects have been charged, bringing the total of suspects charged to 10.
According to Entertainment Tonight, a total of five men and one woman have been charged with kidnapping, armed robbery (in an organized gang), holding Kim against her will and criminal association.
A 61-year-old man named Aomar A. has been identified as the brains behind the heist. He's been charged with the possession of false documents, the use of a false identity and illegal weapons acquisition and possession.
As for the four other men charged, they include another 61-year-old man, a 54-year-old man, a 29-year-old man and a 72-year-old man. They've respectively been identified as Didier D., François D., Harminy A. and Pierre B.
Didier and François are said to be facing similar charges relating to false documentation and illegally possessed weapons. As for Harminy and Pierre, their charges have yet to be disclosed.
Now, here's where things get interesting... In addition to the five men indicted, a 70-year-old woman is facing charges as well. That's right, someone's grandma (probably) had a hand in the Kim K. robbery.
If that's not a rather strange plot twist, I'm not really sure what is.
Reports state the woman has been identified as Christiane G.
She's been indicted on charges of criminal association, illegal possession of weapons, being an accomplice to an armed robbery (in an organized gang) and being an accomplice to holding Kim against her will.
Just let that sink in for a second. Of course, this is no laughing matter, but I can't help but picture some old lady assisting with such a crime. I guess old people aren't that innocent after all.
Despite the shocking developments coming to light following an intense three-month hunt for the suspects, Kim Kardashian is reported to be "very happy" and "very reassured" by the recent progress of the investigation.
Though, she'll never forget the traumatic experience that happened during Paris Fashion Week in October 2016.
During a recent preview of an episode of "Keeping Up with the Kardashians," Kim told Khloé,
It makes me so upset to think about it.
The 36-year-old mother-of-two then went on to reveal her thought process during the horrifying moments that resulted in a group of masked assailants fleeing with nearly $10 million worth of jewelry.
With tears in her eyes, Kim recalls,
They're going to shoot me in the back. There's no way out.
Luckily, Kim was left unharmed and lived to tell her story despite how scared she was. These days, she's focused on one thing and one thing only: FAMILY.
Hopefully, Kim and Kanye will be able to get some shuteye now that most of the suspects believed to have been involved are finally being brought to justice!
Citations: 10 Suspects, Including 70-Year-Old Woman, Officially Charged in Kim Kardashian Robbery (Entertainment Tonight)