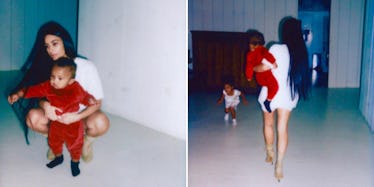 Here's Why Kim K Is Still Posting Those Sweet Pics Of Her Family On Instagram
Instagram
If you're following Kim Kardashian (and I assume you are if you're reading this), then you've noticed a new theme to the photos she's been uploading.
While they're much more beautiful than us, the common folk, Kim has been uploading sepia-toned family photos that look like they're ripped straight out of your own baby book.
Celebrities! They're just like us (except, you know, they're better-looking and rich).
These family photos are just a part of a new photo series by Eli Russell Linnetz, Kanye West's creative director.
A source told Us,
Kim is obsessed. She loves the way they look.
Of course she's obsessed -- look at these adorable babies.
The reality TV star just returned to social media on Tuesday, January 3 after she was held at gunpoint and robbed in her Paris hotel room.
Kim K. shared the photo of her family on Instagram and Twitter and has since posted a number of pictures of herself, her husband and their children North, 3, and Saint, 13 months.
The photos, which all share the same faded filter, feature large, empty rooms.
This aesthetic is perhaps to focus on their family and what really matters.
However, people think the "Keeping Up With the Kardashian" star and her husband are trying to look "poor."
This would explain why these photos make me feel so nostalgic! They look like my family photos because we were poor!
One commenter wrote,
Does anyone else think she's trying to redeem herself? Spends years flaunting herself and her wealth but all of a sudden it looks like she's living in a shack and it's all about kids. Trying too hard to make people think she's living a simpler life.
However, after her terrifying experience in Paris, it wouldn't be surprising if Kim focused less on material objects and more on her family and what really matters.
Her sister Khloé Kardashian said the robbery made her "redefine her priorities."
Citations: The Story Behind Kim Kardashian's New Instagram Family Photos (Us Magazine)