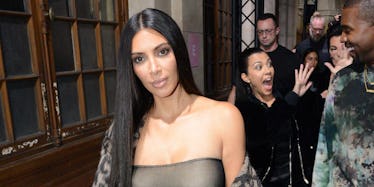 16 Men Have Been Arrested Over The Kim Kardashian Paris Robbery
REX/Shutterstock
Sixteen people have been arrested in connection with the Kim Kardashian robbery, authorities have confirmed.
DNA from the crime scene at the No Address Hotel in Paris led to the arrests, according to CNN.
Some of the suspects are known to authorities as seasoned criminals and one is believed to be aged 72, reports Le Monde.
It follows a three-month investigation.
Police raided several properties and discovered large amounts of cash. There are no reports of Kim's jewelry being recovered at this time.
Masked men burst into the exclusive hotel during Paris Fashion Week in October.
Kim had been taking part in a runway walk earlier that day.
They are believed to have forced hotel staff to reveal which room Kim was staying in.
How they got in is not clear. They could have simply knocked and barged into her room. Kim was alone as her bodyguard was busy looking after her sisters elsewhere.
Once inside, the men tied up Kim, placed a gag around her mouth and threatened her life with weapons. They locked her in the bathroom and ransacked her personal possessions.
Jewelry worth millions of dollars was snatched in the raid.
One piece -- a necklace -- was recovered on a sidewalk near the hotel in the hours after the robbery. It is believed to have been accidentally dropped by one of the criminals as they dashed off.
DNA on an item used in the robbery proved key to the arrests.
Kim went on a social media blackout following the incident, and has only recently started posting again on Instagram.
In a clip for "Keeping Up With The Kardashians," Kim finally spoke out about her ordeal. She is filmed telling her sisters,
They're going to shoot me in the back… There's no way out. It makes me so upset to think about it.
All suspects remain in custody.
Citations: Plusieurs interpellations dans l'affaire du braquage de Kim Kardashian (Le Monde), Kim Kardashian West robbery suspects picked up by French police (CNN)