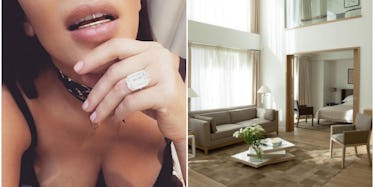 Inside The Exclusive 'No Address Hotel' Where Kim K Was Held At Gunpoint
Instagram/Mathieu Rupin
Pictures have emerged that show the luxury apartments inside the exclusive "No Address Hotel," where Kim Kardashian was held at gunpoint in Paris.
Stars including Leonardo DiCaprio have stayed at the luxury apartment complex. Its real name is l'Hotel de Pourtalès.
It's so secretive about its clients that details about the hotel are hard to find online.
Even the website requires a secure login.
No Address is located in Paris' 8th district.
The pictures on interior designer Mathieu Rupin's website show large, open, planned living spaces. Swanky.
The complex is made up of 10 apartments, all with elevator access. There is also a roof terrace.
Underneath the hotel lies a two-level car park that has both elevators and a turntable for vehicles.
The project is described on Rupin's website as an "ambitious luxury hotel program."
Around five people are believed to have gained access to Kim's room after holding up the front desk staff at gunpoint.
They reportedly ordered employees to reveal where Kim's team was staying before they broke in, tied her up and locked her in the bathroom.
The men allegedly made off with two phones, a $4 million ring and a $6 million bag of jewels.
Kim's spokesperson, Ian Treciokas, made a statement:
Kim Kardashian West was held up at gunpoint inside her Paris hotel room this evening, by two armed masked men dressed as police officers. She is badly shaken but physically unharmed.
Kanye West cut his performance short at a New York music festival in Flushing Meadows, Queens, after he was given the news.
He stopped halfway through his hit song, "Heartless," and announced he had a family emergency before he left the stage.