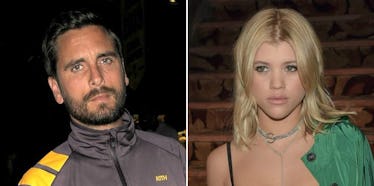 7 Photos Of Scott Disick And Sofia Richie That Prove They're Closer Than You Think
Getty Images/Chance Yeh, Jason Kempin
Most of the time I love Scott Disick and his weird, wild antics (Auntie Kris, it's me, Todd Kraines!), but the dude has no chill when it comes to dating. I'm talking about the rumors swirling regarding him and Sofia Richie. Scott is coming off a summer that contained a slew of countless, famous-faced women... many of them younger than his sort-of-sister-in-law, Kylie Jenner. May we all let out an "ick" together? Ick. However, this rumor might be the real deal. Below are seven photos of Scott Disick and Sofia Richie that might just prove they are indeed together.
Elite Daily reached out to the teams of Scott Disick and Sofia Richie, but did not hear back by the time of publication.
In case you don't know: Sofia Richie is a model who happens to be Lionel Richie's daughter and fashion guru Nicole Richie's step-sister. You might have heard her name when Richie dated Justin Bieber for a few months in 2016. She's also been romantically linked to Brooklyn Beckham and Australian model Jordan Barrett. Honestly, if you are on Twitter or Insta, you know who she is. Now, let's obsess about her with Scott Disick, shall we?
Disick and Richie were first spotted together in May casually hanging out on a yacht in Cannes. You know, like they do. After they were spotted, Richie didn't waste any time and addressed the rumors via Twitter on May 28. She said in a tweet,
Just so everyone can get their panties out of their asses, Scott and I are just homies #relax
Colorful language — Richie really painted a picture with that one. Not that my panties are up my ass, but I believe Bella Thorne used the word "homies" to describe her relationship with Disick, as well. I think the term "homies" went away for awhile, but it's made an amazing comeback.
In case you forgot, Disick's "Cannes Revenge Tour" (as it's affectionately referred to now) consisted of a lot of women. Real talk — Bella Thorne got the brunt of that. *Sips tea.* At the time, Richie and Disick could've been just homies.
Now, it seems like the two are really cozying up. Disick and Richie are reportedly "inseparable." A source told People,
Since returning to L.A., Scott andd Sofia are inseparable. They are spending every day together. Sofia seems smitten.
Just a couple of smitten kittens. Remember when dating a cool older guy was someone with like... a car? Now, it's a guy in his mid-30s with three kids who he shares with one of the most famous women in the world. Neat. The source also added,
It's obvious that she looks up to Scott. She constantly giggles around him. They are very flirty. Scott takes care of her, opens the car door and pays for everything.
Twitter is not about this age difference.
TBH, Richie and Disick are free to date whomever they want. Hollywood is notorious for couples with big age gaps — Kourtney Kardashian and Younes Bendjima (38 and 23) come to mind. *Cough, cough.* While nothing has been confirmed with Disick and Richie, these seven pics are pretty incriminating.
1. Enjoying Lunch Together
2. Looks Like The Two Did Some Shopping At Barney's Together
3. Disick And Richie Bonding Over Their Love Of Jackets And Hoodies
4. Group Shot, But Note Who Disick Has His Arm Wrapped Around
5. More Arm Wrapping!
6. Here's Some Casual Fashion Show Posing
7. Does Disick Not Enjoy Being Hugged? Look At His Face And Tell Me
While it's fun (and easy) to shade Scott Disick, he and Richie can date whoever they want and really don't need to explain it to the rest of the world. The "are they or aren't they" game is enjoyable, but these pictures seem to point to him and Richie spending tons of time together. What will Scott Disick do next? I have absolutely no idea. Like, seriously.
Check out the entire Gen Why series and other videos on Facebook and the Bustle app across Apple TV, Roku, and Amazon Fire TV.