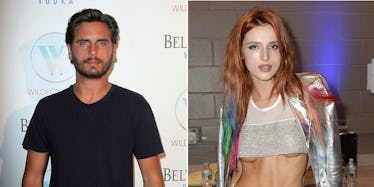 Scott Disick And Bella Thorne Show "Extreme PDA" At NYC Show
John Parra/Getty Images for Wildfox and Gustavo Caballero/Getty Images for iHeart
Scott Disick and Bella Thorne were seen together in NYC on July 17, 2017, showing "extreme PDA" at a restaurant in Manhattan.
Elite Daily reached out to Disick and Thorne's teams for comment, but did not hear back by time of publication.
They were out celebrating Steve Aoki's newest album at Catch, a popular NYC restaurant where lots of celebrities can be spotted on any given day (according to my new roommate who works there... I'm ~connected~ people).
An eyewitness told Us Weekly, "They were hugging a lot. They were very lovey-dovey." The eyewitness says Thorne arrived and left before Disick did, but spent a lot of time together while there.
Just yesterday, Thorne spoke with Duff co-star Jenny McCarthy in an interview for SiriusXM radio and said she and Disick have never been together sexually.
She said,
I was never with him sexually … I've never seen Keeping Up With the Kardashians. I've seen, like, one episode when I first started talking to Scott.
She and McCarthy talked about how Disick is the character on Keeping Up with the Kardashians people on the show always "beat up on."
Thorne said,
I'm very friendly with Kylie and Kendall … as far as I know we're [super] chill. I didn't have any problem with them. It's really unfortunate that there's always somebody that people kind of pick on. In shows and series, there's always that character that people beat up on a little bit. And I feel like, a little bit, that's him on the show. At least in the episode I saw.
They chatted a little more about the show, then McCarthy asked, "So you're not with him anymore?" to which Thorne responded, "In what way?" McCarthy said, "sexually," and that's when she said their relationship (can we call it that?) has never been sexual.
But that doesn't mean they don't go out on dates and make out with each other all the time, so.
Fans are still confused about the fact they're together, no matter the capacity. (Same.)
IT MAKES. NO. SENSE.
SOMEONE PLEASE EXPLAIN TO ME HOW THIS BECAME A THING!