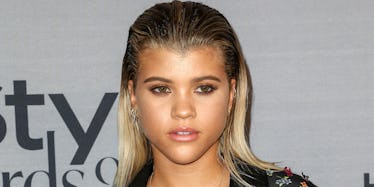 Sofia Richie Wore Bieber's Tour Sweatpants On A Potential Date With Brooklyn
REX/Shutterstock
Does anyone know where Sofia Richie and Justin Bieber stand these days?
Back in the summer, these two lovebirds were all over each other. They literally traveled around the world together and flooded Instagram with countless photos showing off their PDA.
Not to mention, Justin took a ton of heat after fans expressed a strong disliking for Lionel Richie's 18-year-old daughter.
The drama stirred up even more when Selena Gomez got involved, which prompted Justin to completely delete his Instagram account.
These days, Sofia Richie has been keeping busy.
Immediately after parting ways with Justin for unknown reasons, Richie walked the runway during one of Kanye West's Yeezy fashion shows in New York.
After that, she went and got a couple of tattoos before jetting out of New York to spend some time with her superstar dad in Los Angeles.
These days, Sofia Richie isn't hiding her love interests.
While it might seem like her days with Justin Bieber are over, things are certainly heating up between the 18-year-old star and Brooklyn Beckham.
The pair was spotted out in Beverly Hills the night before Halloween at around midnight, according to Daily Mail.
They laughed and conversed the entire time as you'd probably expect...
But what many of us DIDN'T expect to see was Sofia Richie wearing Justin Bieber's Purpose Tour sweatpants WHILE hanging out with Beckham. David Beckham's oldest son didn't really seem to care, though.
In the footage captured, Brooklyn seems pretty happy to be hanging out with Sofia regardless of her sweatpants. That much is obvious in the video above.
Still, no one can figure out where she stands with Justin.
In an interview with E! News, a source explained,
Sofia is still kind of annoyed at how Justin handled a few things, but they still communicate. They haven't hooked up in a minute.
Let's see where this thing between Sofia and Brooklyn Beckham goes. For now, we'll just have to speculate on what her confusing decision to promote her ex's tour while simultaneously seeing someone else actually means.
Hey, has anyone gotten Chloë Grace Moretz's thoughts on her ex POTENTIALLY dating Sofia Richie?!
Citations: New romance? Brooklyn Beckham meets up with Sofia Richie for midnight stroll through Beverly Hills... but she's wearing her ex Justin Bieber's tour trousers (Daily Mail)