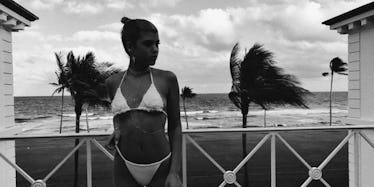 Sofia Richie's Butt Is The Star Of Her Sexy Insta, So Happy Holidays To Us
Instagram
Sofia Richie posted a pretty steamy picture on Instagram to help make our holidays bright.
And this is so embarrassing, my BFF Sofia promised she wouldn't post this photo of our butts on vacation together!
How will I explain this to my parents and all of my boyfriends?
As if you didn't suspect already, I am lying.
The butt to the right of Richie's belongs to her real best friend, Nicola Peltz.
Friends who do squats together, stay together.
Richie cleverly captioned the photo "Honeymooning."
It's probably enough to make ex, Justin Bieber, green with envy.
Lionel Richie's 18-year-old daughter has been posting a lot of sexy snaps on her social media while spending time with members of Nicola's family.
And like every best friend couple, they wore matching outfits.
Unlike my best friends and I, however, they're beautiful and young and we resemble the "Golden Girls."
The two gal pals hung out with Peltz's brothers Bradley, 27 and Zachary, 13, and her dad, Nelson Peltz.
Either Richie and Bradley are actual giants, or those are some tiny motorcycles.
Richie's family was no where to be seen in the pics.
Sofia is currently modeling for PrettyLittleThings.com and Nicola is appearing in "Youth In Oregon," a dramatic comedy that tackles euthanasia in Oregon, which is out in February.
Honestly, Richie hanging out with her best friend is all of us this holiday season... minus the sexy butts.
We just want to spend some time with people who actually get us in our hometown, in between awkward conversations of why we're still single or what we're doing with our lives.
The model recently told Complex magazine,
Sometimes you just want to walk out of your house and look ugly and get a coffee and wear your sweatpants all day.
Relatable. Ugly, coffee, sweatpants -- that's me everyday.
Citations: Instagram (Instagram)