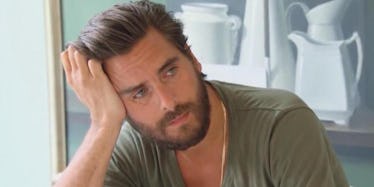 Scott Disick Opens Up About Dating After Kourtney Kardashian In New Clip
E!
Even if he lived for another 1,000 years, Scott Disick will never be over Kourtney Kardashian.
As you're about to see, the 33-year-old Disick starred in a promo clip for the upcoming episode of E!'s "Keeping Up with the Kardashians," in which he revealed his true feelings for the 37-year-old Kardashian sister.
According to E! News, the below conversation between Scott Disick, Khloé Kardashian and Kim Kardashian took place after Scott and Kourtney came home from a family vacation in Mexico.
Watch as Kim and Khloé really give Scott the business about his current attitude toward their sister.
As you can hear in the video above, Scott told Kim and Khloé he did indeed kiss Kourtney in Mexico, but she didn't really show him much affection back.
However, after that, Disick said,
She didn't kiss me back when we were together.
Following up on his comments about kissing Kourtney, Khloé asked Scott,
But so, did your sausage like move in your pants a little 'cause it got excited?
Easy, Khloé!
Without skipping a beat, Disick responded,
I'm still like turned on by her, if that's what you're asking.
Disick then said he wasn't dating anyone at the moment, but he "technically could," if he wanted to.
Scott continued,
I mean, she's a tough girl. It's tough sometimes. I feel like I will never be over her. She's the love of my life, but I just try to do everything to be there for her, but there's literally no appreciation for anything ever.
Damn. It sounds like Scott Disick will always have a place in his heart for Kourtney Kardashian.
The 33-year-old added,
I definitely realize that a lot of things truly are my fault and I'm happy taking ownership for all that. I just hope that one day she understands that I would never want to be with anybody but her.
So, where will these two go from here?
Citations: Scott Disick Admits He Still Gets Turned on by "Love of My Life" Kourtney Kardashian: "I Will Never Be Over Her" (E! News)