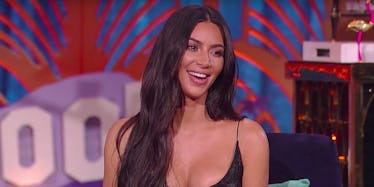 Kim K Admits Kendall Jenner Was Never Part Of Taylor Swift's Squad – VIDEO
YouTube
I gotta come clean, y'all: I used to hate all of the Kardashians, but I freakin' love Kim now.
IT HAPPENED. I DON'T KNOW HOW. I'M NOT NECESSARILY PROUD. BUT I LOVE KIM KARDASHIAN, OK? I SAID IT!
God, it feels so good to get that off my chest.
Anyway, Kim K appeared on Watch What Happens Live with Andy Cohen this weekend and during a Q&A session with the audience, she revealed some TRUTHS about Taylor Swift's squad and Kendall Jenner's involvement in it.
An audience member named Sam asked,
I have a question about what was, like, the best night of my life when you exposed Taylor Swift on Snapchat. So after you did that, was it awkward between you and Kendall, or Kendall and Taylor, because Kendall was a part of Taylor's squad at the time?
EXCELLENT query, Samuel.
This was Sam's face when he asked about the "best night" of his life:
And this was Kim's face when he asked her about it:
LMAO, SHE LITERALLY DEADPANNED TO THE CAMERA. This is the face of a woman who has a big decision to make.
And then, she pulled out the receipt we'd never thought we'd see when she responded with,
I don't know if Kendall was a part of her squad. I don't think she was, or is. So I don't think it was awkward.
Kim K: "I don't know if Kendall was a part of her squad ... I don't think it was awkward."
All of us:
THE SHADE. Andy Cohen was living for it.
After she responded, Cohen asked, "Have you heard from [Taylor Swift], any contact since then?" And Kim just shook her head. God, this is amazing.
If you don't know about the beef between Kim Kardashian and Taylor Swift, do some research and get back to me. T. Swift has been on a long hiatus, making people question the status of her squad. So, this quote from Kim is quite timely.
Later in the interview, Cohen asked Kim what she thought about Kendall's disastrously tone-deaf Pepsi commercial. He asked, "What did you think of Kendall's whole Pepsi controversy?" She responded,
She totally understood at the end of the day, and she felt really awful for it and she just wants to move on from it. I didn't see it until it had already gotten the attention. And so, you obviously have a different perspective when everyone's just saying something. I think I was just traveling, and I landed when I saw all this stuff come up. I think anytime someone does anything, they don't have bad intentions of doing it a certain way, especially Kendall's so sensitive, she would never mean for anyone to perceive anything in a negative way.
If there's one thing I'm sure of after that awful Pepsi ad, it's that Kris Jenner is a literal genius who can fix any PR nightmare (that she also probably caused).
OK, bye! Gonna go stalk Kim's Insta.
Citations: Kim Kardashian Reveals Kendall Jenner's Reaction to Her Controversial Pepsi Commercial (Entertainment Tonight)