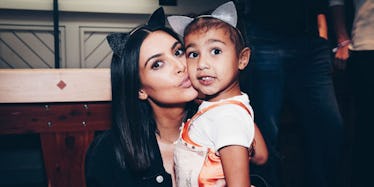 People Are Pissed At Kim Kardashian Over This Pic She Posted Of North West's Outfit
Rich Fury/Getty Images
Kim Kardashian is having to explain her life choices again after people called her out for buying what appears to be a dress with a corset on it for her daughter, North West.
It's an orange, satiny fabric with spaghetti straps and what looks like an ivory corset with some embellishments on the front.
People were saying that putting a 4-year-old in a corset is wrong.
And yes, that is objectively true.
But this dress isn't actually a corset, it just looks like one.
Kardashian was quick to point that out.
In a video on her Snapchat story that she then tweeted out, Kardashian says,
And The Daily Mail, this one's for you. This dress — that I did not design, I actually bought — is not a corset. It's just fabric on the front that looks like a [corset]. So, I think it's really cute, I bought it from a designer... and it's just fabric, people. It's not a real corset.
The front of the dress definitely looks like a corset, but it's not.
You can see North West wearing it in the below photo, and it's clear that the "corset" doesn't go all the way around the back:
It's just decoration, like Kim said.
This isn't the first time Kardashian has had to list her receipts this week.
Earlier this week, Kardashian had to defend herself after people thought she had two lines of cocaine in the background of one of her Snapchats.
But the joke was on all of us who believed it was hard drugs. Turns out the white lines on the table were literally part of the marble the table is made out of.
So to both of these Kim K stories from this, we have to say: *internet takes foot, puts in mouth*
Kim has the receipts.