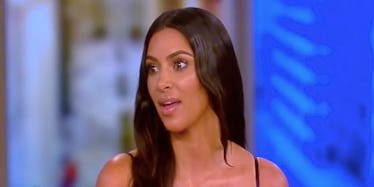 Kim K Finally Found Out What Those Lines In Her Snapchat Were, And They're Not Candy
Twitter
Kim Kardashian West was not playing games with the newest rumor swirling around. On Monday, Kim K was posting a series of Snapchats talking about the new items dropping for her children's clothing line, Kids Supply.
Since nothing goes unseen on the internet, people started questioning if the mysterious white powder on the table behind her was cocaine.
The cocaine accusation was in reference to those two white lines on the brown table. Since people have no chill, this blew up on Twitter.
Many people did come to Kardashian's defense.
As if the Kardashians don't already have enough drama with Rob and Blac Chyna — now this. Kim clapped back to these rumors real quick.
While the ol' "that's candy not drugs" excuse is played out, I believe her. She constantly has kids in the house, and all the Kardashians are known to love Dylan's Candy Bar.
The love even goes back to 2012.
Kim and North West were literally just there on July 10.
Later that evening, Kim Kardashian proved the two lines in the background of her Snapchat were not cocaine. She took viewers over to the back table, and showed that the lines in question were actually just marks on a marble table. MARKS ON A MARBLE TABLE!
Dammit, internet. Kim is an amazing mom to North and Saint West, so it's not surprising rumors of drug abuse upset her. She wanted to set the record straight on this one, and was loud and clear about it.
Next time you think you want to start a rumor about Kimmy K, remember she will put you in your place.