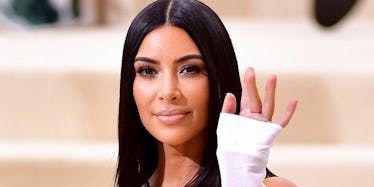 Kim Kardashian Reveals She's "Terrified" Of Saint And North Using Social Media
Getty
It is no big shock to anyone that in an age consumed by the internet and smartphones, Kim Kardashian is the queen of social media.
For years now, we have been able to follow Kim K's life on Twitter, Instagram, and Snapchat without ever missing a beat.
In fact, some of pop culture's most infamous moments have come from Kim's social accounts.
I mean, really, who could forget the time she used Snapchat to air a phone call between Taylor Swift and Kanye West? Or the time her daughter, North West, "accidentally" uploaded a bikini pic of the celeb from over ten years ago? Exactly, it's bonafide social media gold.
Well, Kim recently stopped by to chat with the ladies of The View, and it seems her relationship with social media may have changed a bit in the past few months.
Since her traumatic robbery in Paris, Kim has kept a much lower profile on her social accounts, saying,
I try to share my life. I definitely love doing that, but I think I'm a little bit more cautious these days about what I do share. I've learned through experience that things in real time I might change up a little bit. I might take a photo, save it, post it when I leave the place or when I'm in a different location because I don't think that worked out for me so well when I was posting every last detail. I just learned so much and something had to change just of how I live my life. The things that were important to me before and the things I liked to show off before are definitely not the things I like to show off now.
She then went on to say she's "terrified" of raising her children, North and Saint, in a world consumed by social media and technology. "Kids should not be falling asleep with their cellphones," she said.
Kim sees her newfound boundaries with social media as "A great lesson for [her] to teach [her] kids," and I gotta say I agree.
TBH, this seems like it is good for Kim, and she seems to really be thriving since deciding to keep more of her life private.