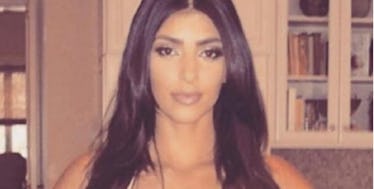 North West Accidentally Posted An Old Photo Of Kim K On Instagram
They should really develop a child lock for iPhones.
Kim Kardashian's followers were treated to quite the surprise Friday when a decade-old photo of a scantily clad Kimmy was uploaded to the famed Kardashian's Instagram account.
The pic, supposedly taken in 2005, shows a tanned and very fit Kim K. posing in a teeny-weeny sequined bikini and tasteful gold belly chain (if belly chains can actually be tasteful, that is).
Though Kim has never shied away from baring it all on social media, the reality TV queen insists it wasn't she behind the nostalgic #FlashbackFriday, but her daughter, North West.
In an updated version of the photo (Kardashian-West deleted the original post, only to re-upload it shortly after), Kim wrote,
North posted this while playing games on my phone. Not sure why or how she chose it but I'm not complaining! LOL I deleted it so now reposting it myself! #FBF from 10 years ago.
Ah yes, the old "oops, my daughter accidentally posted this mostly naked picture of me" story. Classic.
Sorry, Kim, but we're calling BS. Nice abs, though.
Citations: North West Accidentally Posted A Picture Of Kim Kardashian In A Bathing Suit From 10 Years Ago (BuzzFeed)