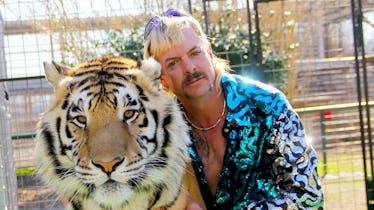 2020 Was Actually A Great Year... For Memes — Here Are 35 Of The Best Ones
It's hard to believe (what seemed like) the longest year ever is almost over, but before you say goodbye to 2020, you can look back at some of the most LOL-worthy moments from the year. From the beginning of quarantine to an anxiety-provoking presidential election — and all the awkward Zoom meetings in-between — a lot happened. Thankfully, the Twittersphere was always there to help in the form of memes. Check out 35 of the best memes of 2020 for the perfect end-of-the-year belly laugh.
With everything from Tiger King to stay-at-home orders to a seemingly never-ending presidential election, the memes from the past year cover a lot of ground. TBH, you may have forgotten about some of these gems. Instagram's Year in Review blog post on Dec. 10 took a moment to remind users about the hilarious memes that circulated in 2020 (see: Ina Garten's huge martini glass), and what a #inspiration. Without further adieu, take a look at some the funniest memes that kept you LOL-ing in the never-ending year that was 2020.
This article was originally published on