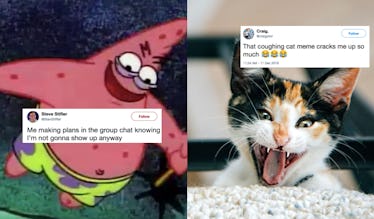 Here Are The Best Memes From 2018 To Give You All The Year End Laughs You Need
If you tend to stay up to date on all of the latest and greatest trends, you've probably noticed that 2018 has had no shortage of people having fun on the internet. And since one of the most hilarious aspects of web culture is memes, you'll want to make sure you take a look at all of the best memes from 2018. They're absolutely ridiculous, but they're pretty much guaranteed to make you LOL.
To be completely honest, I don't have a clue about your general sense of humor. But regardless of what tends to tickle you pink, I can pretty much promise you that this year had at least one meme that could make you laugh. Maybe it was related to pop culture, like Ariana Grande's "thank u, next." It might've been an ode to your childhood, like Evil Patrick, or it could have easily emerged from the random depths of the strange, strange universe, like the infamous moth memes. Either way, the internet produced a ton of ridiculous jokes this year, and I've rounded them up in the list, below. I can almost guarantee you won't regret taking just a few minutes of your time to sit back, relax, and laugh the day away.