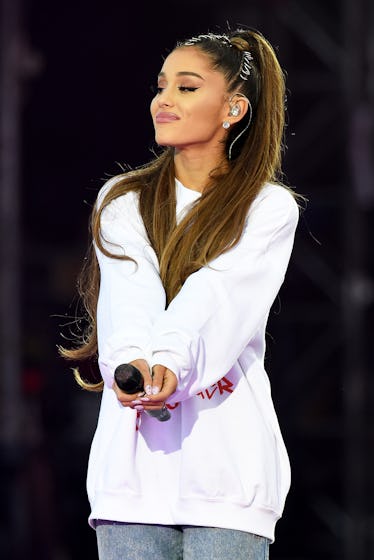 Ariana Grande's "Thank U, Next" Lyrics Just Became The Most Hilarious Meme
Getty Images/Getty Images Entertainment/Getty Images
Ariana Grande released a new track on Sunday, Nov. 4, and it's already taking the internet by storm. The song, entitled "Thank U, Next," is an ode to all her exes, the lessons she's learned from them, and how ready she is to move on and grow as an individual. While the song is notably mature for someone like Grande who is fresh off her breakup from Pete Davidson, "Thank U, Next" is giving the internet reason to create some new memes. These "Thank U, Next" memes are hilarious and they'll definitely make you smile.
Before I delve into all the memes making the rounds on social media right now, it's probably a good idea to give them some context first. So, here's a brief overview of the lyrics to "Thank U, Next." First, Grande cycles through her past relationships with Big Sean, Ricky Alvarez, Mac Miller, and Pete Davidson.
Thought I'd end up with Sean / But he wasn't a match / Wrote some songs about Ricky /Now I listen and laugh / Even almost got married / And for Pete, I'm so thankful / Wish I could say, "Thank you" to Malcolm / 'Cause he was an angel
Then she talks about what she learned from some of those guys. And this is the part that everyone's using to make memes.
One taught me love / One taught me patience / And one taught me pain / Now, I'm so amazing / I've loved and I've lost / But that's not what I see / So, look what I got / Look what you taught me / And for that, I say
You can actually listen to the whole song below. It's amazing and you're going to love it!
Alright, so now that you're all caught up on the lyrics, you should check out the memes born from them. Here's a handful pulled straight from social media where people replace Grande's exes with the various things that have taught them love, patience, and pain:
Some people even used their pets to illustrate how the song and its lyrics make them feel:
And of course, where there are pet memes, there are also food memes:
Needless to say, Grande's new song is really hitting home for a lot of people! And why shouldn't it? So many people have gone through similar hardships and heartbreaks as Grande (even if Twitter is making light of these lyrics), so it makes sense that everyone has really taken to this song.
There's also the fact that Grande used the title of the song in an epic clapback at her ex Pete Davidson not too long ago. On Nov. 1, Grande took to Twitter to call seemingly Davidson out for a skit he did for Saturday Night Live. In the skit, Davidson jokingly asked musical guest Maggie Rogers if she wanted to get married. When she turned him down, Davidson looked at the camera and says, "0 for 3."
That minor comment sent Grande on a tweet storm. "For somebody who claims to hate relevancy u sure love clinging to it huh," she wrote in one tweet. In another tweet, Grande said, "thank u, next," which both gave the impression that she was over Davidson's antics and also revealed that her ex would be featured in her new song (despite it not being a diss track at all).
So, there's a lot to unpack in "Thank U, Next" and fans seem to be doing that with memes. Hey, at least they're having fun!