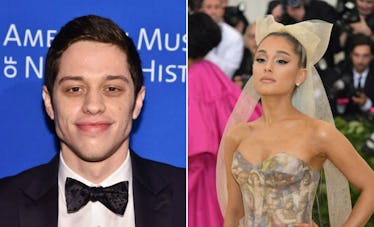 Ariana Grande Just Responded To Pete Davidson's Marriage Joke In The 'SNL' Promo
MICHAEL LOCCISANO/GETTY IMAGES ENTERTAINMENT/GETTY IMAGES | NEILSON BARNARD/GETTY IMAGES ENTERTAINMENT/GETTY IMAGES
Did Pete Davidson shade Ariana Grande in a promo video for Saturday Night Live? It sure seems like it, and Grande definitely seems to be taking it personally. At least that's how it looks on Twitter. Ariana Grande's reaction to Pete Davidson's marriage joke proves that she's always ready to defend herself even if it means calling out an ex!
Elite Daily reached out to Grande's team to confirm that her tweets were, in fact, in response to Davidson, but did not hear back by the time of publication.
In a clip posted to SNL's official Instagram account, Davidson asks musical guest Maggie Rogers if she'd like to get married. When she vehemently declines, Davidson looks at the camera and says, "0 for 3." And that comment seemingly refers to his past relationships, including the one with Grande. Davidson and Grande got engaged in June 2018 after just a month of dating. Before that, he was in a longterm relationship with Cazzie David, the third relationship he's seemingly referencing in his joke.
The SNL clip was posted to Instagram on Thursday, Nov. 1. Not long after, Grande took to Twitter to seemingly respond. Though she didn't refer to Davidson by name, most fans definitely got the idea that what she was saying was about him.
"For somebody who claims to hate relevancy u sure love clinging to it huh," Grande wrote in one tweet.
In another tweet, Grande said, "thank u, next," which gave the impression that she's so ready to move on from this debacle. Who wouldn't be, right?
Then, in a third tweet, Grande quoted a fan who responded to SNL's video with, "tag yourself i'm maggie." Considering Maggie was the musical guest who shut down Davidson's fake marriage proposal in the SNL promo, that all but confirmed that Grande's tweets were in reference to her ex and his joke.
Oof! Things seem to be getting ugly between Davidson and Grande.
For reference, here's a look at the SNL video in question:
And here's what Grande posted on Twitter shortly after the video was published:
All this comes just weeks after Grande and Davidson broke off their relationship. News of their split hit the media in the middle of October, just a month after Grande's ex Mac Miller died of a reported drug overdose.
While Davidson and Grande's relationship was seemingly solid between May and early October, it seems that Miller's death in early September may have put a strain on their whirlwind romance.
In an Oct. 15 report from People, a source close to Grande and Davidson revealed that Miller's death was a huge turning point in the relationship.
"It was devastating and shocking to her. It's had a huge, negative impact on her life. It made her rethink many things in her life," the source said. "She realized that planning a wedding right now felt very rushed. It's not what she wants to do right now. She doesn't want to make any rushed decisions and has decided to take a step back instead." Elite Daily reached out to Grande's team previously these claims, but did not hear back by the time of publication.
So, it seems like Grande was dealing with a lot at the time of the breakup. I'm sure it doesn't sit well with her that Davidson might be poking fun at the situation.
Not to mention, Grande is gearing up for her Sweetener tour, so she's got a lot on her plate right now. Hopefully, she and Davidson can smooth things over and address their ill-fated romance from a place of respect and maturity.