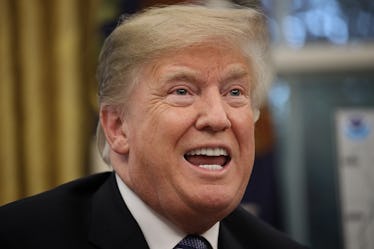 This Photo Of Donald Trump Finally Got The Meme Treatment In The Funniest Way
Win McNamee/Getty Images News/Getty Images
In the realm of internet humor, it seems as though presidential memes are where it's at right now. Whether you like him or not, you have to admit that each of Trump's goofy expressions and idiosyncrasies are highly meme-able, which was best demonstrated in one of his latest photographs, taken on Sept. 11. In the photo, the POTUS appears to be fist pumping on his way to a memorial, and as you'd imagine, people have mocked the heck out of it. So if you haven't already seen these memes about Donald Trump's double fist pump on 9/11, they're straight-up hilarious, and you'll probably be tempted to make one of your own.
On Sept. 11, 2018, Donald Trump attended a service remembering the terrorist attack at the Pentagon in Pennsylvania just 17 years prior. Before the service, however, Trump was photographed fist-pumping on his way to greet fans. Yes, you heard that correctly — the POTUS was fist pumping on his way to a 9/11 memorial. Woof. Elite Daily reached out to the White House for comment on the intention behind Trump's gesture but did not receive a response at time of publication.
Luckily, though, Twitter is filled with creative and hilarious people, including Vertigo Comics writer and creator, Rob Sheridan. He tweeted a PNG version of Trump fist pumping, with a transparent background, telling people to "do [their] absolute worst."
First, though, here is the Trump fist pump caught on video.
Here's the original photoshopped tweet that provided for endless meme possibilities.
Obviously, the artist's followers, fans, and fellow creators of Trump memes got in on this challenge, and they took the opportunity to photoshop Trump doing some really absurd things. Some made him look like a little kid fist-pumping on his way to Chuck E. Cheese, and others Photoshopped him into movie scenes like The Ring (my absolute favorite of them all). One even shows him enthusiastically walking through a Taco Bell drive-thru. These edited photos are absolutely amazing, and even though Trump's reaction to 9/11 was pretty disenchanting, these memes will definitely make you laugh — I can guarantee it.
OK, I don't know about you, but those kind of changed my life. And if you happen to be on a Trump meme kick now, the POTUS responded to a totally anonymous op-ed published in The New York Times on Sept. 5 in the most hilarious way. The article was supposedly written by an anonymous senior official in his administration, and it allegedly uncovers what it's apparently like to work for Trump. In a written response sent in a tweet by White House Press Secretary Sarah Sanders, she said of the letter's author,
The individual behind this piece has chosen to deceive, rather than support, the duly elected President of the United States. He is not putting country first, but putting himself and his ego ahead of the will of the American people. This coward should do the right thing and resign.
Anyway, Trump obviously responded (because of his constant need to defend himself) and erratically tweeted "TREASON?" without any explanation or further context on Sept. 5. Elite Daily reached out to the White House for further comment on what President Trump was referring to in his tweet but did not hear back at the time of publication. Obviously, Twitter put it into a different context and created a very worthy meme. For example, one Twitter user even referred to the existence of turkey bacon and decaffeinated coffee as "treason, "and it's honestly hilarious.
One of my favorite ways to deal with something traumatic is to laugh it off, and it looks like the internet is stepping in to do it for me. The fact that President Donald Trump apparently fist-pumped on his way into a 9/11 service is pretty abominable, but these memes make fun of it in the best way possible. BRB, I think I'm going to go frame that Seinfeld one, because President Trump and Elaine Benes dancing terribly together is honestly priceless.