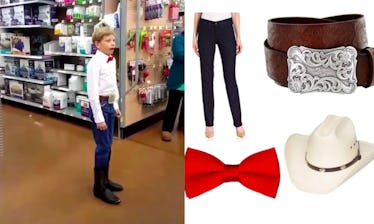 These Halloween 2018 Meme Costumes Will Help You Stay Trendy This Year
Although I'm basically a master of Halloween costumes (self-proclaimed, that is), coming up with the perfect costume never fails to be incredibly difficult. As a life-long horror movie fanatic, I'm a firm believer that Freddy Kruger or The Shining twins are absolutely perfect options, but I must say that funny costumes are most definitely my favorites. So, if you're looking for some LOLs — and if you're trying to keep your costume as relevant as possible this season — these are the best Halloween 2018 meme costumes you can choose from. I can pretty much promise that any one of them will get you some chuckles.
If you think about it, the realm of memes is incredibly vast. Even from the year 2018 alone, there are honestly hundreds of potential costumes to choose from. Do you want something political, like fist pumping Donald Trump (or literally any one of his outrageous tweets)? Or are you searching for something more light-hearted, such as Evil Patrick Star or IHOb? See, I'm telling you, there are so many fantastic options for 2018 meme costumes this year, and most of them are relatively easy to put together. So, sit back, relax, and take a look at each and every one of these fabulous (and straight-up hilarious) options. You won't be disappointed.