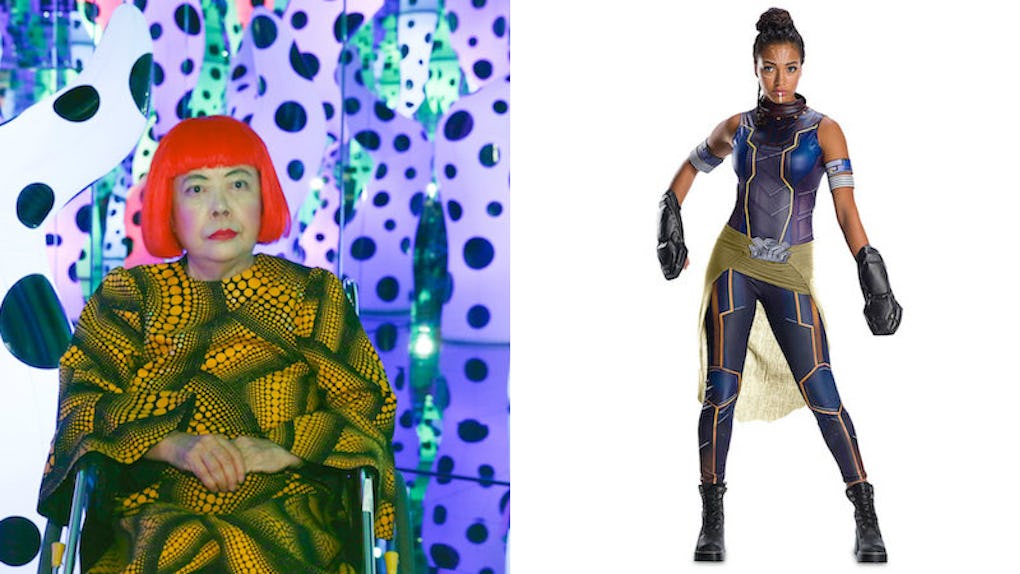 Andrew Toth/Getty Images Entertainment/Getty Images/shopDisney
5 Girl Power Halloween Costumes To Show You're Not Scared Of Anything
Halloween is almost here, and not only does that mean PSLs and candy, candy, candy, it also means you've got to lock down your costume pretty soon. And that's always the hardest part, isn't it? You already dressed up as some lame interpretation of a zombie last year and the year before that, so, now what? Honestly, why not go full-on feminist this year with some girl power Halloween costumes? After all, I know it might sound cheesy, but there's a fearless and totally badass woman inside all of us, and Halloween is one of the best opportunities to really let that part of yourself shine.
And, listen, if you're worried you're going to be the only adult going all-out with a Halloween costume, think again: According to a survey done by the National Retail Federation, 179 million people celebrated Halloween in 2017, and 70 percent of households passed out the sweet stuff to trick-or-treaters. What's more, the survey found that most of these stats appear to be rising year after year. So, really, you're never too old to celebrate Halloween.
Also, just a thought: Could those rising numbers, ahem, have something to do with the fact that we grown-ups kind of need an escape from the rather turbulent sociopolitical landscape we have at the moment? Well, I'll let you be the judge of that. All I know is that the clock is ticking, and it's time to dive real deep into thrift stores and costume shops for the best, most badass feminist Halloween costume you can create. Here are a few ideas to get you started.
Kick Some Butt As Black Panther's Shuri
Not only was Shuri the tech mastermind of Black Panther, she was also, IMO, the wittiest character of them all, and totally fearless in both mind and spirit.
You can order this costume online, or you can make your own pretty easily with some spandex, a leotard, and a killer makeup look.
Bring On The Justice As RBG
Ruth Bader Ginsburg is the second woman to be appointed to the Supreme Court, and for years, she was the only female justice on there at all. There's pretty much nothing RBG can't do, so put your hair back in her signature slick bun, get some clip-on earrings, a judge's robe and a gavel, and girl, you've got yourself an awesome Halloween costume.
Get Artsy AF And Dress Up Like Yayoi Kusama
Yayoi Kusama is known first and foremost for her incredible artwork that spans all mediums, including installation, sculpture, painting, and performance. And as for fearless? Well, one of the first installations that put her on the map was a "happening" in which everyone involved was naked and covered in painted polka dots.
Kusama is also known for her bold-as-hell fashion aesthetic, which is the definition of fearless and fierce. Get yourself a neon wig, a bold lip, and a dress with bold, bright polka dots, because that is Kusama's thing. And who knows — your wardrobe might just continue to be inspired by Kusama long after Halloween is over.
Channel Your Inner Goddess With An Artemis Costume
Artemis, Greek goddess of the hunt (or, in Roman mythology, known as Diana), was said to have helped her mother give birth to her twin brother Apollo when she was only a few days old. That's just the kind of badass thing Artemis does, y'all.
This costume can be as intricate or as simple as you want it to be. You can steal a few makeup tips from the incredible tutorial above, or you can keep things real simple with a bow and arrow and a bed-sheet toga. Your call.
Patti Smith Is An Effortlessly Cool Costume
Look up the definition of badass, and you'll probably find a picture of Patti Smith. The queen of downtown cool has never shied away from any art form, be it poetry, acting, or music. If you want to channel her effortlessly cool vibes on Halloween, take your cue from Smith's iconic portrait on her album Horses.
No need to do anything to your hair — just put on a white button-down or tank top, some black pants, black suspenders, black slip-ons, sunglasses, and perhaps a blazer if it gets cold. Maybe you can even do your own rendition of "Because The Night" after a few cups of that deliciously pumpkin-spiked Halloween punch.