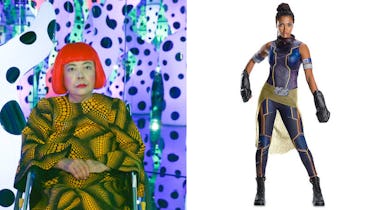 Channel Your Inner Girl Power This Halloween With One Of These 5 Feminist Costumes
Halloween is almost here, and not only does that mean PSLs and candy, candy, candy, it also means you've got to lock down your costume pretty soon. And that's always the hardest part, isn't it? You already dressed up as some lame interpretation of a zombie last year and the year before that, so, now what? Honestly, why not go full-on feminist this year with some girl power Halloween costumes? After all, I know it might sound cheesy, but there's a fearless and totally badass woman inside all of us, and Halloween is one of the best opportunities to really let that part of yourself shine.
And, listen, if you're worried you're going to be the only adult going all-out with a Halloween costume, think again: According to a survey done by the National Retail Federation, 179 million people celebrated Halloween in 2017, and 70 percent of households passed out the sweet stuff to trick-or-treaters. What's more, the survey found that most of these stats appear to be rising year after year. So, really, you're never too old to celebrate Halloween.
Also, just a thought: Could those rising numbers, ahem, have something to do with the fact that we grown-ups kind of need an escape from the rather turbulent sociopolitical landscape we have at the moment? Well, I'll let you be the judge of that. All I know is that the clock is ticking, and it's time to dive real deep into thrift stores and costume shops for the best, most badass feminist Halloween costume you can create. Here are a few ideas to get you started.